Being an intern is an awesome way to figure out where you want to take your career. In college, take advantage of internship positions – they provide chances to learn and grow before entering the work field in full force. And it's never too early to start your professional career.
Many students think internships consist of running errands and getting coffee for your supervisor – let me tell you, it's not even close to that, nor should it be.
Here are five things my internship at Flint has taught me so far:
1. The power of making connections.
I was on the hunt for an internship. I asked a former colleague if she had any recommendations, and she told me to connect with Anna Larson, the social team lead here at Flint. I reached out to Anna to introduce myself and seek advice for young professionals starting in the work force. We met over Zoom, and when an internship was available, she reached out to me!
Without these important connections, I would have never been blessed with the opportunity of working for an agency like Flint. Connections allow you to build a foundation for the future you want. You can find extraordinary opportunities when you connect and socialize with the people around you.
This is not just a chance to find a job, but also a chance to build relationships, friendships and of course, more connections. Reach out to find someone to connect with at Flint.
2. Step out of your comfort zone.
Since this is my first marketing position, I was anxious and excited. Coming out of your comfort zone in the beginning can be tough, and it's meant to feel uncomfortable because we are in a new and unfamiliar stage. Making that step allows for more growth and opportunities.
3. Flint is all in for your success.
Flint offers lots of opportunities for growth and creativity. Their culture is incredibly strong. Flint promotes opportunities for employees to improve their mental and physical wellness and emphasizes a work-life balance that helps us to do what is needed to perform with time to rest and unplug.
If a workload gets too much, your supervisor and team will gladly help you. Never hesitate to reach out!
4. It is OK to ask questions and not know how to do something.
Asking questions can be intimidating because you don't want to come off as "uneducated." However, asking questions is crucial in the workplace. There is no such thing as a dumb question. Do it right by asking how to do something rather than getting it wrong by trying to figure it out yourself.
Remember that you're there to learn and explore – that's kind of the point of internships. It might be an anxiety-inducing process, but everything you do helps you grow in the workplace and as a person.
5. You're here for a reason! Prove it and show off your strengths.
The culture at Flint reminds you that you're worthwhile, and their values help you find a new sense of confidence.
If you can learn to value yourself and see your own worth, others around will see it too, and soon enough you'll be on the path to success!
Interested in being the next Flintster? Check out our open positions.
Don't miss any opportunities or Flint news – subscribe to our newsletter.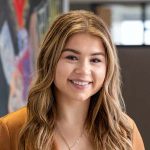 Georgina Orn
Georgina is a public relations coordinator on Flint Group's social media and PR team. She got her start at Flint Group as an intern in 2019, creating social media content. Today, Georgina has a passion for creating press releases, newsletters and social media content that helps her clients share their stories. Outside of work you can find her cooking, reading, writing and volunteering at Special Olympics North Dakota.