Working with dealer channels, we often run into clients who aren't quite ready to jump into email marketing because they don't have a good list. Fair enough – but that doesn't mean email marketing should be ignored. As the old Chinese proverb says, the best time to plant a tree was 20 years ago, the second best time is now. Same goes for capturing emails! By implementing the tips listed below you'll find your list will come together in no time.
A few housecleaning items before we get into the tips:
First, Canada. Oh, Canada and your extensive privacy laws … I love how polite and respectful you are, but you sure make it challenging for us marketers! If there's ANY chance you'll be targeting a Canadian, be sure your list is CASL compliant. If you live in Canada you probably already know the details, but if not, you can brush up here. The TL;DR: Make sure your contacts have explicitly opted into your email list and you'll be sitting good. And honestly, this is a good practice for ALL to follow, not just Canadians.
Next, storing your contacts. In a perfect world, your POS, marketing automation platform and CRM will all work in perfect harmony and automatically share info back and forth. Odds are only a handful of you have that setup, but don't let that hold you back from building your list. It can be as easy as using a simple spreadsheet. Here's an example. Once you're ready with a CRM or marketing automation platform, you can easily import your contacts from the spreadsheet.
Finally, be prepared with good content. Capturing these email addresses is all for naught if you don't have good content to deliver on a consistent basis. Keep in mind that as you are capturing these email addresses, you're also setting an expectation of what users can expect to see in these emails. Deliver on those expectations and you'll see high engagement rates with your content.
Now onto the good stuff. Here are my top five tips for how to organically grow your email list with quality prospects and customers:
1. Ask for it
Sounds simple, I know. But seriously, this is the crux of it all when it comes to pulling together a quality email list. Sure, you can rent email lists, but let me warn you – they're almost always crap. (Sorry for the language, but I can't in good conscience sugar coat this point for you.)
OK, back to asking for the email. Train anyone who interacts with your customers to start asking for the email. The easiest time would be at the point of the sale. Frame it up in a way that shows it's in your customer's best interest to give you their email – lead with how signing up will benefit them so it doesn't feel like they're signing up for junk mail. Some ideas for this include:
Service reminders
Special events
Exclusive discounts
Product info
2. Leverage your website
Including forms throughout your website is another great way to capture email addresses. By offering valuable content, offers and demos you can capture additional leads that can be included in your future email programs. Once you have your forms set up, be sure to drive quality traffic to your website using paid search and display advertising.
3. Events
Trade shows, open houses, demo days, customer appreciation … whatever your event, it's an easy opportunity for you to capture email addresses of attendees. Pre-registering and signing up for door prizes or giveaways are two great ways to get people to share their email addresses. Don't forget to build out a post-event nurture into your event plan – read more on that here.
 4. Get social
One of my favorite campaigns to run on social media are Facebook lead gen campaigns. These campaigns allow you to run paid ads on Facebook, offering your prospects something in return for giving you their email address. It's really similar to a form on your website, but the targeting capabilities and convenience of the form being tied to the user's Facebook profile make it a great tool to leverage.
You can also use social media to organically promote your newsletter. Use posts to tease articles, offers and other content to encourage your followers to sign up.
5. Direct mail campaign
Some folks will say direct mail is dead, but I firmly believe it is still a very effective way to reach your customers and prospects. Send a postcard out to your customers driving them to a landing page where they can input their email address. In return, offer them a free gift, discount or other incentive.
You can get started with some of these ideas today – so go plant that tree! Let us know if you'd like to hear more about these tips or want more information on how to get started with your email marketing program.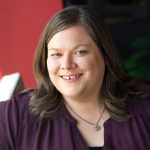 Kaia Watkins
Kaia helps clients drive customers to action. As our dealer channel and direct marketing strategist, Kaia provides strategic and creative planning as well as campaign development. She has 11+ years of experience in direct marketing, with particular expertise with industrial and agricultural dealers and dealer networks. She's a DMA Certified Marketing Professional (DCMP) and spends thousands of miles on the road connecting with clients, so she wasn't daunted by a vacation to Africa (ask her about the baby elephant she adopted, but not in front of her spoiled dog, Bentley).