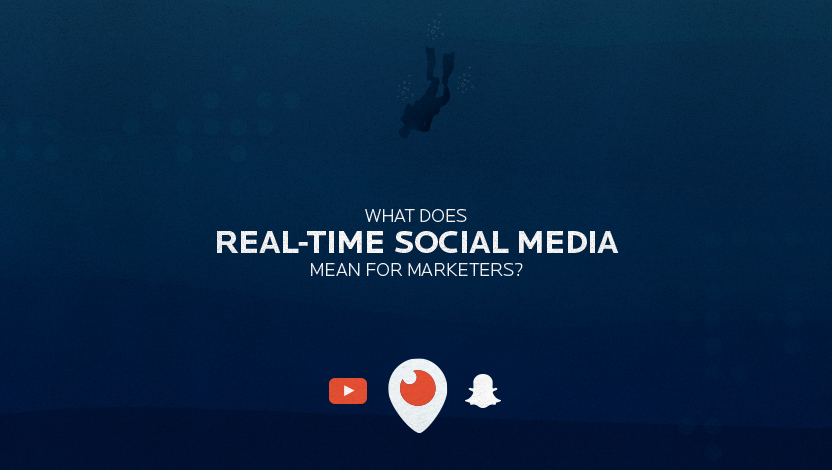 We're a few months into 2016, and real-time social media is going stronger than ever. Snapchat, Periscope, Facebook Live and YouTube Live are thriving – due, in part, to our collective lack of attention span. Real-time video has been compared to handmade artisanal goods, complete with imperfections and made just for a select few, and the content doesn't last long. Compared to the mass-produced content made to reach as many eyeballs as possible, real-time social content demands focus.
We know real-time social media is the real deal. What does this mean for marketers? First, we have the attention of audiences who are otherwise drowning in media– as long as we don't mess it up. Second, by telling fans and followers a live, unedited version of our story, we're able to connect in ways we never dreamed of. [inlinetweet prefix="" tweeter="" suffix=""]Real-time social media also gives us a break from the money-hungry, algorithm-driven networks[/inlinetweet]. Between push notifications (unless your followers have manually changed their notification settings, they are notified each time you "go live" on Facebook and Periscope) and each platform's lack of Twitter-like noise, users are much more likely to see your real-time marketing messaging.
Let's dive a little deeper into each platform and see which (if any) of these new channels fit your brand:
It's a favorite among millennials and a no-brainer for any brand trying to get in front of this audience (we're talking to you, higher education marketers). We've written about Snapchat being more than a sexting app, and recently, I got a chance to take over Flint Group's Snapchat account to show our followers what a day in the life of the social media team is like. If you're like most brands, the $50,000 minimum budget for advertising on the platform is a bit steep, so we suggest signing up as a user and building a following. Another great option is Snapchat's on-demand geofilters, which allow users to apply your custom message as a part of their snaps.
The app that made real-time/live video take off for everyday social media users is definitely Periscope, a Twitter acquisition that allows anyone to broadcast live from anywhere with cellular connectivity. Periscope is a promising network for many brands, especially those with an existing following on Twitter. Periscope allows us to share a behind-the-scenes view into our brands, facilitate Q&A sessions and act as our own TV crew during product launches. Many brands favor evergreen content, but that's not what you're getting with Periscope. The ephemeral nature of many live-video platforms means your videos won't be around next week – 'Scopes disappear after 24 hours. We don't get too hung up on losing these videos, as [inlinetweet prefix="" tweeter="" suffix=""]the scarcity created by real-time, short-lived videos boosts viewership and engagement.[/inlinetweet]
The second largest search engine owned by the first largest search engine (Google), YouTube is a major player in the real-time video world. To go live on YouTube, the only requirement is having a verified channel in good standing. Similar to Periscope's relationship with Twitter, if you already have a large YouTube following, you have a major advantage on YouTube Live. YouTube has supported 360-degree videos for just over a year, but just this week it announced 360-degree live streaming – an interesting option for brands looking to give their audience an immersive experience from company events. Need inspiration? YouTube is streaming 360-degree video from Coachella this weekend to connect with fans using virtual reality headsets from the comfort of their own home.
Almost reality. Select performances from Weekend 2
will be streaming live in 360 @YouTube. https://t.co/369m1pEHngpic.twitter.com/3JeqhlArCN

— Coachella (@coachella) April 18, 2016
As with all YouTube videos, be sure to optimize your content for SEO.
Have you ever wished you could watch Arnold Schwarzenegger work out in real-time? Thanks to Facebook Live, your dreams have come true. Facebook Live wasn't the first social live-video offering, but when you've got more than a billion and a half users, first to market isn't a deal-breaker. While the service launched as a celebrity exclusive, anyone with an account can broadcast live now, including individuals, pages and groups. Viewers can interact with broadcasting accounts through reactions and comments, accounting for very high engagement rates for brands that "go live."
While all the platforms mentioned in this article have their place, [inlinetweet prefix="" tweeter="" suffix=""]Facebook has the users, technology and support to take over the live-video broadcast world.[/inlinetweet]
Are you ready to jump on the live-video train? Let's work together.