We're thrilled to celebrate your career.
When asked to describe working alongside former public relations director Chris Hagen, Flintsters characterized her as a strong mentor, phenomenal listener and smart team builder. Her wise, calm demeaner meshed well with the public relations field–and made her a great boss.
"She is a wealth of knowledge on any subject," said account director Melissa Reichert. "For Chris, there is no problem that can't be fixed with dark chocolate, dark coffee or dark beer."
In an industry once dominated by men, Chris fiercely entered the advertising field and became one of the first women at Flint Group to do so. In fact, she defined an industry pillar by starting our public relations department. She's now been with the company for over thirty years.
"Chris is woven into the fabric of what Flint represents," Flint Group president Jodi Duncan said. "She has weathered many storms as the agency business transformed. It's hard to imagine Flint without her consistent presence, but we are so grateful for all her time and energy that helped build our business."
Her career has been full of notable successes, holiday parties, coffee meetings and of course, the occasional crisis (but that's just a typical day in PR). Achievements include traveling to New York City to claim the coveted PRSA Silver Anvil, winning AAFND's Silver Medal Award and serving as a founding member of the PRSA Northern Plains chapter, to name a few.
Career Highlight – PRSA Silver Anvil Award
In 2014, client Blue Cross Blue Shield of North Dakota (BCBSND) and Flint Group were recognized with Public Relations Society of America (PRSA)'s prestigious Silver Anvil Award for BCBSND's effort to improve communication, provide better customer service and help explain the complexities of health care.
Chris drove the PR strategy for the "Bolder Shade of Blue" campaign, working closely with brand strategist and SVP of client services, Kimberly Wold Janke.
"Chris has been with Flint through times of great change not only at Flint, but also in the marketing communications industry," Janke said. "Regardless of the ever-changing marketing communication tools, Chris stressed the importance of telling the brand story through an integrated communications approach. She has always been a champion of doing what's best for our clients, including telling truth to power—even when it was something they did not want to hear. She has been a tremendous mentor to many of us over the years and will be greatly missed."
Career Highlight – AAFND Silver Medal Award
The prestigious Silver Medal Award is annually given to an individual who has helped raise the stature of the advertising industry. Individuals are nominated by peers and awarded at the American Advertising Federation of North Dakota's annual ADDY awards, celebrating work that "cultivates the highest creative standards."
In 2004, Chris accepted this well-deserved award previously given to Flintsters Donovan Kolness, Harold Flint, Jerry Connelly, John McDonough, Roger Reierson, Lee Massey (Media Productions) and Kim Kemmer.
Let's stroll down memory lane
Through the years, Chris has seen a thing or two—and dressed up as a thing or two! Scroll through some photos for a sneak peek of what her career at Flint Group encompassed. (Spoiler alert: The years comprised of many costumes.)










We did the math…
Sustaining an Accreditation in Public Relations (APR) requires a lot of coffee. Approximately 61,000 ounces, according to our calculations.
Thank you, Chris.
Most of all, we want to thank Chris for a career of hard work and inspiration to those at Flint Group and beyond. There's not much she hasn't experienced, which makes for a remarkable public relations professional.
"Her impact here will never be forgotten," Duncan said. "We all wish her many glorious days at the lake and very few days dealing with crisis communications!"
The public relations team has now transitioned under the leadership of Sadie Rudolph.
"What Chris built at Flint is simply amazing. When you think of PR in the Fargo-Moorhead region, you think of Chris Hagen.  I am excited to continue the PR legacy she built. I know there are big shoes to fill," Rudolph said.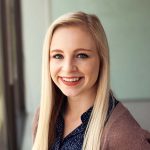 Libby Bahr
Libby joined Flint Group as a social media and public relations intern in 2018. She has experience in content creation, social media implementation and copywriting for clients across various industries, including professional services, manufacturing and retail. She was promoted to join the social media team full-time upon her graduation from NDSU in 2020. Through her range of experience, Libby has developed expertise in social media tactics and copywriting. She plays a key part in implementing and coordinating Flint Group's social media services.