Journey maps, sometimes called Service Designs, are one tool to give your organization a deeper understanding of the customer steps involved in a process or stage (awareness, buying, on-boarding, using, etc.) and the thoughts and emotion from the perspective of your target market.
In today's competitive marketplace, it's smart to know how prospects and customers really experience your business or service, down to what they are thinking and feeling through every interaction with your brand.
Are they loyal? Lukewarm? Lost?
To dig deep and find out, we recommend employing Customer Experience tools and getting all aspects of your business involved in the process. It can be complicated but well worth it. Why? That's simple: The better you understand your customer, by simulating their steps and how they experience your company, you will be better positioned to identify areas of improvement during their purchasing journey.
What is Customer Experience (CX)?
Customer Experience (CX) is the sum of all brand touch points and the emotions evoked, combined with the customer's expectation. It's not just customer service and your customer service reps with their boots on the ground being as friendly and accommodating as possible. CX is everything from sales and marketing to guest services, your call center, accounting (invoices are a touch point), IT (web functionality) and your entire internal operations. Impacting or modifying your customer experience requires a cultural shift to "take care of the customer" and truly mean it. It will involve change and we have to be ready to embrace it.
Why Should You Care About Your Company's CX?
Many companies silo their touch points (accounting, sales, marketing, call center, etc.) with little or no comprehensive discussion about what the holistic experience should be. No one feels the effects of those silos except the customer, who, at times, may hit all touch points in a given day. When each of those departments (silos) is on a different page, the end customer feels the disparate brand experience, leaving them confused, and often frustrated.
To accomplish a more holistic customer experience, we need to see the bigger picture: all of the interactions and touch points at each level and the backend process it takes for us to achieve it. One of the first steps in identifying these interactions and touch points is with Customer Journey Mapping. This process will lead to a better understanding of your business's wins and expectation or service gaps so that you can measure and improve your customer experience.
There can be different maps based on the purpose or intended outcome we are trying to solve:
Process maps
Lifecycle maps
Web or call center optimization
Data maps
Communication maps
Three Key Components to Mapping Your Customer Journey
Mapping your customer journey will help facilitate a deeper understanding of your business and opportunities from the consumer viewpoint and uncover service gaps. Following these key components along a customer's journey is a fundamental part of uncovering those gaps, but it will also show you where you excel in delighting the customer.
#1: The Journey Step
The Journey Step is the step-by-step process a customer or prospect encounters during a stage or action with your company. The process or steps a consumer takes when purchasing a product or service is highly variable. We all have different needs, tastes and desires, which is why knowing your persona, otherwise known as your specific target audience, is so fundamental.
There can be anywhere from two steps in a journey to 200 (or more), depending on several factors including touch points, experiences and emotions that occur during a process. This all depends on how deep you need to go and your objectives.
#2 Touch Points
Touch points along a journey consist of the tangible elements with which a customer comes into contact. Touch points can include people and artifacts, and they greatly influence the overall experience and emotions along a customer's journey. It is recommended to collect these touch points for evaluation and review after the journey is mapped. Depending on the scope of the map, it may be most efficient to focus on the negative touch points. Examples of touch points are advertisements, invoices, brochures, websites, order forms, product packaging, instruction manuals, etc.
The more consistent experience with each touch point, the more delightful the experience will be, and that turns into gaining consumer trust, loyalty and brand advocates.
#3 Experience
The experience along a customer's journey unveils emotions, from what the customer might be thinking or feeling to what they are smelling or touching. Later on, businesses can use the overall experience to evaluate and scale which touch points are negative and need to be changed and which are positive "wins."
Meet Justin
Let's take a look at an infographic that details a simple consumer "persona." This gasoline journey is a great example of mapping a customer's journey because you get to see how detailed and complex a seemingly mundane customer journey can be.
Stay Tuned
Mapping your customer's journey is just the beginning of the CX process. Don't worry. We've got lots more to share with you! Part II of our Customer Experience blog series takes a step back from Journey Mapping and focuses on Getting Buy-In: Aligning to be more Customer Centric and Setting Expectations.
Talk to Us
Now that you have a better understanding of just one of the CX Tools: Customer Journey Mapping, how do you think your business could benefit from this process?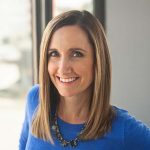 Andrea Morrow
With over 20 years of experience, Andrea is known for developing marketing communication plans that work hard for clients and exceed goals. Her strategic direction will find solutions that tell a brand story and gain business results across platforms to ensure a seamless brand experience for all audiences. Andrea thrives by staying on top of details, analyzing results and pushing for growth both with her clients and her internal teams. Known for her positive attitude and thinking on her toes, Andrea has lent her expertise to student groups and business groups such as the FMWF Chamber. Andrea's high-energy style is put to good use at home with her husband and their three kids. Luckily, she finds time to enjoy lake life during the summer.