Imagine meeting your idol. He's the godfather of the industry, the Rockefeller of tycoons, the Kim of Kardashians.
If you're Dawn Koranda, American Advertising Federation of North Dakota's 2018 Silver Medal recipient and director of Flint's design and production house, Super Studio, you play it cool.
OK, no, you don't.
Dawn has long idolized Milton Glaser, who she calls "the godfather of graphic design." You might recognize him as the designer of the iconic "I Heart NY" logo and slogan. Dawn met Glaser at "design camp" 20 years ago and experienced a true fan-girl moment. "I was, like, following him around – stalking him, really," she recalls.
But Glaser must have seen the passion Dawn has for the art form. After plenty of stalking – and a polite request – Glaser sat across from Dawn for almost a half-hour at a small wooden table. He sipped a bottle of chilled Perrier while giving Dawn career and life advice. In the dim cabin light, he carefully ripped animals out of paper.
Today, Dawn prominently displays Milton's hand-torn cat on a shelf in her office. And while Dawn keeps a piece of her idol close to her while she toils toward deadlines, she has become a mentor to countless employees and clients at Flint and in the industry at large.
Dawn Koranda accepts the Silver Medal at the AAF ND
Driven, passionate and creative, Dawn and her work have touched many since joining Flint in 1990, when she graduated from M State in Moorhead, Minnesota.
"I love working with Dawn because she encourages me to be myself, and she explores all creative options out there for whatever project you're working on," says Amanda Feldman, a production artist at Super Studio, who Dawn helped get a job at Flint about 10 years ago. "She's helped grow me since I started working here … and has been a mentor to me for a really long time. And she's a pretty cool boss."
Jen Strickler, senior vice president of creative productions at Flint, also grew up under the instruction of Dawn. Dawn also introduced her to the genius that is Milton Glaser (who they now affectionately call "Uncle Milty"). Jen also learned the importance of "impeccably kerned, leaded and tracked type" from Dawn.
"And to never, ever, leave a widow or an orphan in your paragraph," Jen says. "To this day, small details in design that are even the slightest bit off, like one poorly kerned letter, or forgetting to tighten secondary leading, have a visceral effect on me."
And this is knowledge Dawn has passed on to many aspiring designers. She is well-known in the community for tutoring and critiquing work for students at several area colleges.
"One of the best things about working with Dawn is her passion to give back," says Jodi Duncan, Flint's president. "She always focuses on what more she can do for the community, what more she can do for the client she's working on, what more she can do for the employees of Flint."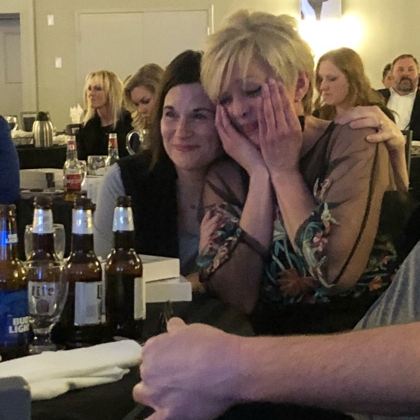 Flint President Jodi Duncan, left, and Dawn Koranda, embrace as Dawn is awarded the Silver Medal at 2018's ADDY Awards
Nurturing young professionals is the most rewarding work she does, Dawn says, but she also has countless successful campaigns to look back on. Among her favorites are pro bono projects, like those for Ride the Red for Hospice of the Red River Valley, and the Cystic Fibrosis Foundation.
The one client project that stands out is a fundraising event Flint executed for Roger Maris Cancer Center that had Dawn stretching and exhausting every creative muscle she has.
"It was so much fun because [I got to work on] everything from the logo to the set design, the venue, what furniture we were going to use," she says, "the overall whole design of the event."
For the 2012 event, a sell-out crowd of more than 900 people packed the Fargodome, which had been transformed under the direction of Dawn from the Bison's home turf to an elegant, modern setting that glowed with textures and flowed like waves.
Most people who know Dawn couldn't imagine her doing anything other than design, but she had different plans as a kid. She loved animals, so her original intention in high school was to become a veterinarian. But art and creativity were also passions from an early age.
Dawn is grateful for her high school art teacher in Wadena, Minnesota, who first helped her hone her artistic skills. She also considers her dad a big influence on her career path. "He was always so supportive of everything I did," she says.
Today, Dawn says she gets a lot of her creative drive from the demand for new technology and new media. "Nowadays everything is so different. … To keep up on what's happening, that drives me and motivates me to keep learning."
Dawn was equal parts shocked and grateful when the Silver Medalist announcement came Feb. 23 at the ADDYs in Fargo. "That is probably my biggest career achievement, to be recognized by peers and leaders in the industry."
We think Uncle Milty would be proud.
Congratulations to Dawn and all the previous Silver Medalists we're proud to call Flintsters!
Donovan Kolness
Harold Flint
Jerry Connelly
John McDonough
Roger Reierson
Lee Massey (Media Productions)
Kim Kemmer
Chris Hagen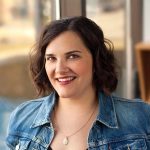 Heidi Reisenauer
Heidi is a social media and digital content strategy expert. A recovering journalist, Heidi understands how to effectively reach any audience through precise messaging. She also knows how to leverage earned media, social media and analytics in the most efficient, effective ways possible. From an individual post to an extensive campaign, Heidi enjoys seeing the big picture and finessing the fine details of a project. Heidi's zeal for social media is matched only by her desire to formulate creative, interesting and meaningful content. She and her team study the most effective tools and latest features of social media to determine the best uses for clients to fulfill their marketing goals.