Every summer, hundreds of Special Olympics athletes from across North Dakota descend on Fargo to go for the gold at the State Summer Games. These athletes compete like everyone else – they celebrate their wins and are disappointed in a loss – but as the athlete oath states, they are always brave in the attempt!
Unfortunately, not all athletes have families that are able to support them during competitions. This is where we need your help.
Volunteer to Cheer
We are putting a special focus on inviting individuals and businesses from the community to attend the State Summer Games events, meet the athletes, and cheer them on during competition. We encourage businesses to create signs, wear team t-shirts, and challenge other businesses. The only true requirement is to show up and CHEER LOUD!
Schedule of Events
We encourage you to attend any event you want. Stay for an hour or spend the whole day – choose what works best for you and/or your team:
June 8: Opening Ceremony and Parade of Athletes from 6-8 pm in downtown Fargo and the Fargo Civic Center
June 9: Volleyball, swimming, bocce, power lifting from 10am – 3pm at Davies High School
June 10: Track & Field from 9:30 am – 2 pm at Fargo South High School
Athlete Meet & Greet
Upon request, a Special Olympics athlete and/or SOND representative may be available to visit interested businesses for a meet and greet. The athlete will share their experience in Special Olympics and how much it means to have fans cheering them on.
Team T-Shirts
Fans in the Stands team t-shirts will be available to order, with room on the shirt for your business name. Each business can choose the color of their choice and are encouraged to wear the shirts when they attend the Summer Games activities.
Sign Up to Participate
To participate, to arrange a presentation, or to learn more about Fans in the Stands for the State Summer Games, contact Kaia Watkins at 701-306-4696 or kaia.watkins@flint-group.com. Kaia will be in touch with more information and arrange a visit to your business with an athlete if requested.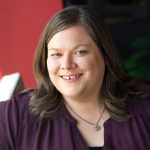 Kaia Watkins
Kaia helps clients drive customers to action. As our dealer channel and direct marketing strategist, Kaia provides strategic and creative planning as well as campaign development. She has 11+ years of experience in direct marketing, with particular expertise with industrial and agricultural dealers and dealer networks. She's a DMA Certified Marketing Professional (DCMP) and spends thousands of miles on the road connecting with clients, so she wasn't daunted by a vacation to Africa (ask her about the baby elephant she adopted, but not in front of her spoiled dog, Bentley).