Are you feeling "meh" about your content marketing lately? Is it harder than usual to develop plans or pitch new ideas? We're here to reassure you that you're not alone.
Burnout has been a hot topic in the social media marketing world throughout the pandemic – and it's not going to change. Even though "normal" life is slowly returning, unless we stay on top of it, burnout will be here to stay.
Here are our tips for avoiding burnout, keeping ideas fresh and staying sane in an ever-changing world.
1. Bookmark great content to reference later.
Other brands' content can help launch your own ideas, even if they serve a completely different industry. From now on, every time you see a piece of content that piques your interest, save it for your future self. (Instagram's "Save" feature comes in handy for this tip.)
For example, our social media team has a "show and tell" channel that we use to share ideas that could work for our clients. Some do, some don't, but it's so helpful to have a collaborative list of examples from other brands when brainstorming.
Here's an example that came to fruition.
Initial inspiration:
2. Remind yourself of the big picture.
Often, content creators get stuck in the detailing, editing and troubleshooting sides of social media.
When day-to-day implementation starts exhausting your energy, it's time to remind yourself of the high-level business goals you are achieving through content marketing. (And give yourself a pat on the back while you're at it.)
3. Take. A. Break.
There was a point in 2020 where if I read the word "pivot" one more time, I would have nearly thrown my desk out the window. So, I took a PTO day to watch Tiger King with a whipped coffee and returned feeling like a new person.
At Flint Group, we're big advocates of self-care for our employees. We even wrote a whole blog about it. While mental well-being is different for everyone, sometimes it looks like stepping away from the computer a few hours early and returning fully charged.
4. Brainstorm with people outside of your team.
Breaking up the monotony of brainstorming is key to avoiding burnout. Ever spark a great idea during a random water fountain conversation? Sometimes bringing different minds into the same room (or Zoom meeting) is where the best conversations happen.
5. Read a book – or at least an article.
Reading other people's writing often inspires me to be better at my own. I truly believe that creativity is fluid and flows from person to person, project to project (shoutout to Elizabeth Gilbert's Big Magic for this philosophy).
Staying in tune with other creative works helps us better develop our own ideas. Whether it's reading a book, following publications like Content Marketing Institute or watching your favorite YouTube creator, consuming content of all kinds can help us generate takeaways for our clients.
We hope these tips help alleviate your content marketer's block. Remember: When workloads become too much to handle, it's time to talk to your supervisor about managing expectations. We're all humans, not workforce robots. After all, frantic writers don't create good content!
Hungry for more? Check out our blog for additional writing tips or contact us to chat about content creation for your business!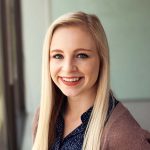 Libby Bahr
Libby joined Flint Group as a social media and public relations intern in 2018. She has experience in content creation, social media implementation and copywriting for clients across various industries, including professional services, manufacturing and retail. She was promoted to join the social media team full-time upon her graduation from NDSU in 2020. Through her range of experience, Libby has developed expertise in social media tactics and copywriting. She plays a key part in implementing and coordinating Flint Group's social media services.