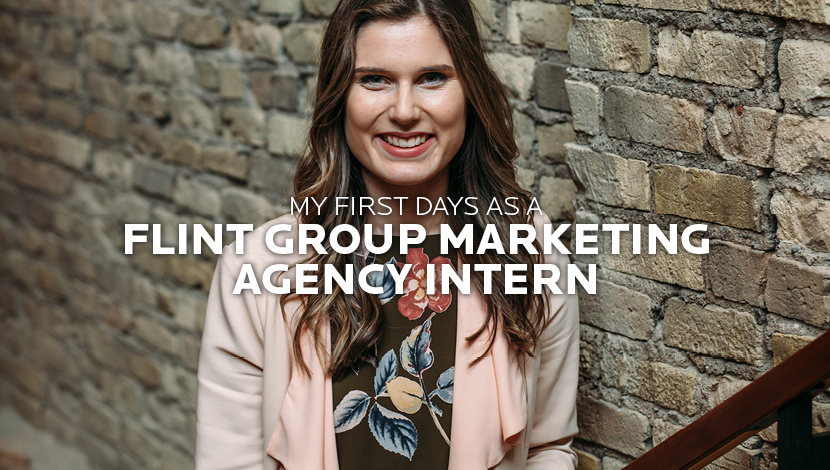 For communication and marketing students alike, the social media Flinternship is a rather coveted position. It is seen by college students as an opportunity to get their feet wet by working for one of the most reputable marketing agencies in town. When I saw that the social media Flinternship opened for applications back in February, I began editing my resume and writing a cover letter immediately.
When I graduated high school, I knew what I wanted to do. The work of social media and marketing was calling my name, so I became a strategic communication major at North Dakota State University. This major has been perfect for me and has really laid the groundwork for what I will be doing at Flint Group this summer.
Now, for a little bit of insider information: I will be sharing my experiences from my interview and first week here as an intern. The interviewing process was surprisingly painless. I usually get super nervous, but the professional women interviewing me had smiling faces that diminished my nerves. Shortly after the interview, I received a call notifying me that I got the position! I immediately accepted and began my Flint Group journey.
My first two days at Flint consisted of orientation. The word orientation can often be associated with other words like boring, redundant and painful. However, orientation at Flint Group was a blast! I started my day by meeting the social media team that I will be working with and eating a delicious meal at Pounds downtown. Can't complain!
Next, I was given a tour of the office, set up my computer and software, and filled out some paperwork. When I came back the next day, there was a lot of fun in store for me. I met with my supervisor and then received the "Flint in 60" overview. A representative from the interactive team, the creative team, the media team, the account services team and the PR team each met with me to explain what they do! It was so, so interesting to learn more about what each department contributes to the big picture in order to ensure our clients' success and satisfaction.
On my second day of orientation, I also had a very exciting meeting. I met with the team in charge of the intern project, and I learned what I would be working on this summer!
The very end of my second orientation day was super fun … I joined the social media team for a team building activity at Puzzled FM! My team made it out of our escape room and won! Today is the third day of my time here and I am writing this blog post. I am so excited to further my skills and knowledge in the realm of social media with the wonderful people here at Flint Group. Stay tuned for more updates on what I'm up to during my summer Flinternship!