I've heard so many concerns about generative AI replacing entire marketing teams. The truth is that tools like ChatGPT, Jasper and others are helpful and create efficiencies, but they are, at the end of the day, just that – tools. With proper application, generative AI can play a role in streamlining processes and helping marketers find efficiencies, but it's not going to solve world hunger or put marketing professionals out of a job.  
Think of it this way. Current generative AI is, at its core, a supped-up version of your cell phone's predictive text. Using monumental amounts of data, these programs have been trained to predict the next logical word in a sentence for a pretty impressive approximation of human communication. However, like your text message, generative AI tools rely on clear, concise and relevant input to produce an answer. How accurate is your cell phone at guessing your intent when you've misspelled something? How beneficial these tools are for creating efficiency or increasing productivity, depends on the humans running them.  
Now that we've got that out of the way, let's talk about how strategic implementation of generative AI can benefit marketers.  
Ideation
As the Public Relations + Social Media Lead for Flint Group, I see a lot of potential for generative AI when it comes to helping my team avoid the dreaded "blank page." Sometimes the deadline is looming, and the creative spark just isn't there. This is the perfect time for a brainstorm sesh or a "hey, let me pick your brain," moment. That might be a little hard to do, though. With hybrid work and carefully balanced workloads, getting the team together might not always be feasible.  
With generative AI, everyone has their own personal sounding board. Use it to spark creativity, reduce research time, anticipate objections, or even draft copy that can then be edited. Depending on your project and your prompt, generative AI can turbocharge the creative process. 
But, it's important to recognize the limitations. Misinformation and bias are known shortcomings of current generative AI tools. Relying on humans to be the editor rather than the creator, makes it easier for slipups to occur. Subject matter knowledge and an understanding of quality are still vital for success.  
Recurring Content
Where people are the key to creating engaging, thoughtful content, machines are often the best "man" for the job when it comes to repetitive activities. As we've seen with robots on the assembly line, recurring content, templates, chatbots and other similar projects might be the ideal proving ground for generative AI. Tweaking branding information for a business with 100 unique storefronts would be tedious for an employee. But ask generative AI to perform the same task, and, depending on the quality of your prompt, you might save yourself a significant amount of time.
It is worth noting there are already time-saving tools out there for some of these asks. For example, our social media team uses Sprout Social, which can effectively implement chatbots. However, the majority of our clients prefer to have people doing their community management for more authenticity, not to mention the opportunity it offers to find trends and develop more content. Generative AI can also offer copy suggestions for social media to best respond to platform algorithms.  And there are plenty of tools that let you create templates for emails, spreadsheets, questionaries, etc. Generative AI might be the latest tool to provide solutions for recurring tasks, but it is not the only one.   
Adaptability
Perhaps the biggest drawback of Generative AI tools, at least in the world of PR and social media, is timeliness. Trends, hashtags and SEO are constantly changing. A cyber-attack, natural disaster or other PR crisis can come out of nowhere. ChatGPT and some other generative AI tools aren't connected to the living, breathing beast that is the World Wide Web. For a social creator or an SEO pro, this limits their usefulness. That's not to say the tool can't be used to help draft a holding statement for a sudden CEO departure, but it will take a person to pull in relevant facts from current events to make the statement authentic, empathetic and impactful.   
Generative AI will not replace marketers and content creators. However, as I've heard from several thought leaders across the PR and social space, agencies that find strategic ways to incorporate generative AI into existing processes to create efficiencies will replace agencies that haven't. Technology will continue to provide new tools. It is up to us to figure out the best way to use them for our company and our clients.  
We continue to focus on the human. If that's your goal, drop us a line.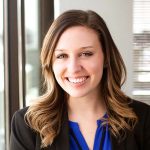 Madison Quamme
As the public relations manager, Madison leverages a strategic approach as she plans tactics to effectively communicate with audiences across various channels. Driven by relationship cultivation, Madison serves as a trusted partner to clients, as they nurture connections with their stakeholders. She brings passion and experience in strategic planning, internal and external corporate communications, public positioning and reputation management. Prior to joining Flint, Madison served as an account manager at Ironclad Marketing, a public relations and marketing firm focused in heavy equipment. She was responsible for providing strategic insight for clients as well as quarterbacking and executing annual marketing plans. Additionally, she brings experience in the civil engineering and healthcare industries.