Greetings from your downtown Flintsters! We're so excited about the new, very Instagram-worthy mural downtown that we want to shout out some of our favorite neighborhood spots. Community is at the heart of what we do, and we're lucky to be in such a vibrant one here in downtown Fargo. Join us on this downtown tour!
First stop: THE MURAL. If you haven't taken a selfie with it, are you even in Fargo?
The Fargo Neighborhood Association Community recently completed the Greetings Tour Fargo Mural on June 27.
The mural represents the community and City of Fargo. The landmarks featured in the artwork include: the Fargo Theatre marquee, Ojibwe floral designs, the Veteran's Memorial Bridge monument (which connects Fargo and neighboring Moorhead over the Red River), the Great Northern Railway Depot and ice skaters at Broadway Square.
The Greetings Tour is a mural project creating iconic nationwide landmarks in locations all over the world. Starting in 2015, one of their goals was to create "Greetings From" in all 50 states, and with the addition of the Fargo mural, they're one step closer to achieving this goal. Muralist Victor Ving and photographer Lisa Beggs collaborated with local artist Anna Johnson.
Second stop: Broadway Square
Whether it's grabbing a bite to eat at Rosewild or hanging out in Broadway Square with friends, there's something for everyone! The creation of Broadway Square has allowed the community to come together in a unique area of the city.
Every summer, the Downtown Community Partnership hosts a street fair where local vendors can have a booth, which gives the community a chance to support local businesses. The mission of the Downtown Community Partnership is to promote and expand downtown as a destination filled with vibrant culture, art and commerce.
Broadway Square hosts numerous events each month, like fitness classes, movie nights, Chalk Fest and much more! In addition, there's a plethora of locally owned restaurants and boutiques to check out. There's even a legal street art alley that allows locals to freely paint on walls! Be sure to check it out behind The Forum building.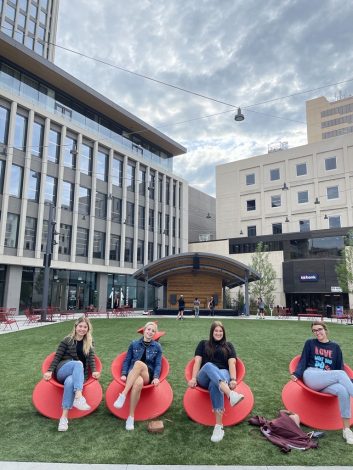 Third stop: North Dakota Department of Transportation
North Dakota Department of Transportation (NDDOT) completed a two-year construction project on Main Avenue to transform this gateway into a safe, accessible and beautiful passageway to and through the heart of Fargo.
This corridor provides a safe and friendly place for all users – vehicles, pedestrians, bicyclists and transit users – to explore. This project was crucial as Downtown Fargo continues to grow.
Fourth stop: COFFEE!
Here at Flint, we're fueled by coffee. We often host team meetings at local coffee shops, pick up coffee for co-workers or spend our free time meeting up with friends. Some of our favorite places downtown include Young Blood Coffee, Twenty Below Coffee Co., Atomic Coffee, Black Coffee and Waffle Bar, and Babb's Coffee House.
Last stop: Jasper Hotel
The newly opened Jasper Hotel and it's flagship restaurant, Rosewild is located in the heart of downtown, right next to Broadway Square!
Rosewild offers a unique dining experience and is the place to enjoy great food while celebrating success (think: business lunches and dinners, celebration dinners, etc.)! Guests can gather with friends to enjoy a sunny day on the patio or around the fireplace overlooking the skating rink in the winter.
Jasper Hotel brings a collaboration of local vendors, innovators and artists in the community together and serves as a gathering spot for visitors and locals.
Did you know?
Jasper Hotel is named after Jasper B. Chapin, Fargo's third mayor. Chapin dreamed of building a place where both travelers and locals could experience what he loved so much about Fargo, and Jasper Hotel continues that dream!
Whether you live in Fargo or you're just visiting, be sure to check out the new "Greetings From Fargo" mural! And while you find yourself downtown at one of these stops, be sure to take a selfie and tag us – we'd love to see it!
Connect with us on Instagram, Facebook, LinkedIn, Twitter, or TikTok.