Our world looks a lot different than it did a few months ago. The coronavirus pandemic will continue to evolve, leaving many people and businesses feeling uncertain about the future. But before you throw out your entire marketing plan or cancel your media, take a deep breath (as long as you're 6 feet away from others). Here's what we DO know:
Use your marketing strategy to communicate any impact.
"One of the most important things companies can do is to think through how coronavirus impacts their customers and their customers' needs," says Flint President Jodi Duncan.
Consider if there will be product or service interruptions or delays. Will customers experience a lag or change in customer service? The more you can communicate, the better.
Examine the tone of your messages and content.
I recommend brands build out content calendars at least monthly, and preferably quarterly, so make sure to review scheduled blogs and social posts and adjust to ensure they fit the mindset of your customers.
Right now, businesses and brands should show empathy and empower customers with information.
Continue to monitor your social media spaces and engage customers when you can. We're all in this together, so make sure your customers know that by engaging in thoughtful and empathetic dialogue.
Don't rush to change your media strategy.
As with all things about coronavirus, don't panic. It's still important to stay in front of customers as they're making purchases. While people may be "social distancing," they're still spending plenty of time online and consuming more media because they're looking for general information. Not to mention, they need something to fill their time.
"Consumers are consuming more media. Period," says Mariah Madsen, Flint's media director.
Right now, people are consuming more TV and digital content, Mariah adds. And because physical interaction with friends and family is limited, social media is more important than ever.
This is your time to show your true values as a brand and an employer.
"This experience will force all businesses to plan differently for the unexpected," Jodi says. "How businesses react to this will be apparent in how they treat their employees and customers."
Reflecting empathy and kindness will shine through for brands.
Let us know what we can do to help.
As more employees are working remotely or unable to work at all because of illness or children being out of school, an agency partner is a great way to supplement your marketing and communications team.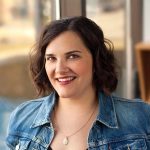 Heidi Reisenauer
Heidi is a social media and digital content strategy expert. A recovering journalist, Heidi understands how to effectively reach any audience through precise messaging. She also knows how to leverage earned media, social media and analytics in the most efficient, effective ways possible. From an individual post to an extensive campaign, Heidi enjoys seeing the big picture and finessing the fine details of a project. Heidi's zeal for social media is matched only by her desire to formulate creative, interesting and meaningful content. She and her team study the most effective tools and latest features of social media to determine the best uses for clients to fulfill their marketing goals.