Using hashtags can increase engagement and brand awareness on social media for both brands and people. They're a valuable tool when you use them the right way. Think of them as your invitation to the party. Without hashtags, you might be OK groovin' outside of the party. Use hashtags? You're entering the dance party!
Here's an overview of how and when you and your brand should use hashtags.
What's a hashtag?
A hashtag is a word or phrase preceded by the pound (#) symbol. They're like searchable keywords and a way to group posts. Clicking a hashtag leads you to a page with other posts using the hashtag. By using hashtags, you can join a conversation (a party!) or spark a conversation on social media.
Not everything can be a hashtag—they're not random words or sentences. #ThisIsNotHowYouUseHashtags Using hashtags incorrectly won't get you into the party.
What's a branded hashtag?
A branded hashtag is unique to you or your brand. It can be your business name, blog, slogan, branded term, etc. A branded hashtag is an extension of your personal or business brand identity. You might have a pool of evergreen branded hashtags or create one for a campaign. They're your very own party starter.
If you're considering a branded hashtag, brainstorm ideas and search social media to see if and how they're being used. No results? Awesome, the hashtag is unique to you.
Branded hashtags give social media users another way to interact with you. You get to invite them to the party. Branded hashtags can help people remember you or your brand, and you can identify brand advocates by seeing who's using your special hashtag.
→ Think: Coca-Cola's #ShareACoke campaign, or Nike's #JustDoIt.
When should I use hashtags on each social platform? How many do I use?
Hashtags make posts more discoverable and more interactive. In general, using fewer is most effective. Think quality over quantity—like going to a few really great parties instead of a bunch of OK parties.
Twitter: Twitter is the birthplace of the hashtag, and they're best used during events or topic-specific happenings. Think conferences, new episodes of TV shows, televised debates, trending issues, etc.
→ Hashtag limit: Try to use no more than two hashtags per tweet. Engagement drops if you use three or more.
Instagram: Hashtags are an effective way to get discovered by new audiences on Instagram. Be sure your profile is public so your hashtags can be seen. If your profile is private, only your followers will see your posts on hashtag pages. Users can follow hashtags on this platform— another reason to choose them carefully.
→ Hashtag limit: You can add 30 to a post and 10 to a story. Brands typically use two to five per post; individuals tend to use more. Make sure they make sense for your content.
LinkedIn: Since LinkedIn is the most professionally focused of all social platforms, hashtags that might work well on other platforms could fall flat here. Before clicking "Post," check out the hashtags suggested by LinkedIn in the drop down after you start typing your hashtag. Your frequently used hashtags will appear below your post. LinkedIn users can follow hashtags, just like on Instagram. I like to search hashtags I'm considering to see how many people are following them.
→ Hashtag limit: While LinkedIn doesn't limit how many hashtags you can include, stick with no more than five to avoid looking spammy.
→ Did you know 80% of B2B leads come from LinkedIn? Learn more to optimize your LinkedIn profile for success.
Facebook: Hashtags on Facebook can make your posts more discoverable but there's no hard evidence that they're wildly helpful here. Branded hashtags on Facebook can point people to more brand posts so use your brand hashtags here, if any.
→ Hashtag limit: Choose one hashtag for maximum engagement.
Pinterest: Add hashtags to the description of Pins. Think of keywords you'd search to find your Pin. Search hashtags you're considering in the Pinterest search function to see if the results match what you're posting.
→ Hashtag limit: Pinterest recommends no more than 20 per Pin. Start with two to four.
YouTube: Include hashtags in your video description or title. Be accurate and descriptive with your choices.
→ Hashtag limit: YouTube allows a maximum of 15 per video. Use only what makes sense—which is probably less than 15.
Once you're comfy using hashtags, they become second nature. Our social media experts are here to help, too. Party on!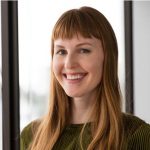 Anna Larson
Anna is a social media and content strategist and PR/social manager who creates community online and offline. Her 15+ years of experience helps organizations deliver engaging content on social media. She knows that adopting a customer-centric mindset is at the core of developing a strong brand and telling an impactful story. Anna provides both the detailed and big-picture thinking for clients. A natural born problem-solver and teacher, she never stops seeking out new ideas and inspiration. Her greatest passion is leading with empathy and helping her team grow and feel valued. She loves Brené Brown quotes and a good heart-to-heart. At the end of the day, what matters most to her is knowing she helped make a difference.