Facebook Jobs, the social behemoth's first feature geared towards recruitment, was unveiled about a month ago.
How is this new feature? We posted a job to find out. Here is our experience:
We posted our Marketing Analyst position to our Flint Group Facebook page before a write-up.
First things first: How do you post a job to Facebook? Turns out, it's as easy as sharing a normal update to your Facebook Page. Here's how we get started: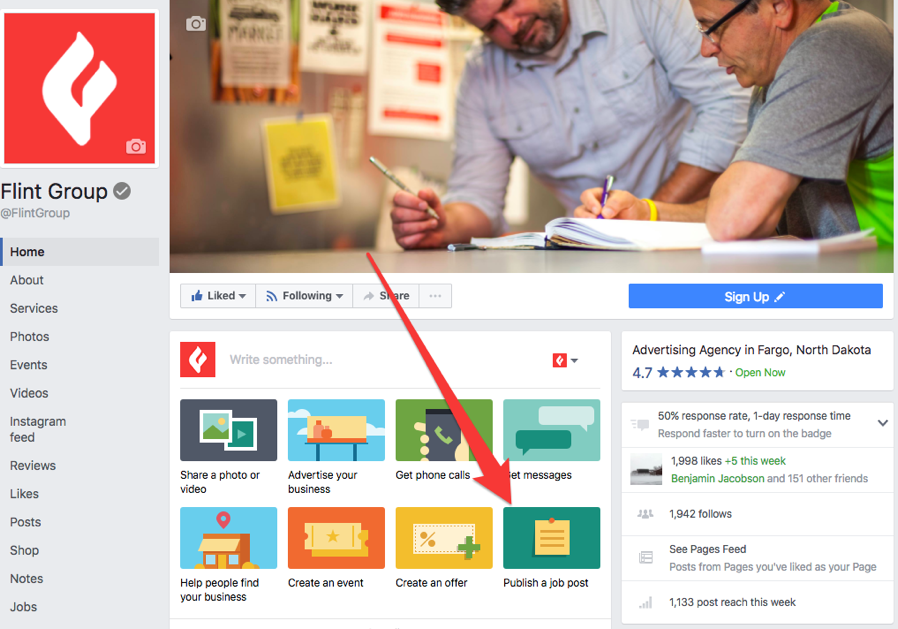 Select the "Publish a job post" option from the icons on your Page and you'll see the following screen, with fillable fields to share details about your open position, including an optional salary information section and room for up to 5,000 characters of a job description.
The Job Post will auto populate the image from your cover photo, but you have the option to upload a custom image as you see fit. The best size for these images is 1200 x 630 px.
Once you click the "Publish Job Post" button on the bottom right of this window, your post is shared like a normal, organic Facebook post. Job Posts are free, but you can amplify them, too. Boosting Job Posts lets you target your ideal candidates based on geography, job title, field of study and other options.
When users see your Job Post in their feed, it will seem like any other post – except Facebook uses an "Apply Now" call-to-action button where we'd usually see "Learn More", "Shop Now" or other CTA buttons (you'll only see "Apply Now" on Job Posts).
How well do Facebook Job postings work?
That depends on your industry, followers, the job you've posted, whether you boosted the post and other factors. For us, it underperformed. But hey, we got some great blog content out of the experience. Check the Insights below:
What did we learn?
Facebook might not be the best place to find quality candidates for professional roles, but Facebook Jobs should be a part of your recruiting process, especially for small businesses. It doesn't seem likely that Facebook Jobs will put LinkedIn out of business, but the feature is one more way for Facebook to gain ground on the social landscape.