The future of public relations is a trendy topic, and a very important one at that.
So often, public relations professionals are positioned as megaphones, sharing positive updates, announcing a new product or service, or carefully navigating uncomfortable or unflattering circumstances. We spend a great deal of our professional lives talking, which is often what we do best and what comes most naturally to us. But with any conversation in life, communication is a two-way street. Public relations is no different. It's more important now than ever to listen to what your audiences and stakeholders are telling you.
Public relations listening takes a shift in mentality. Instead of listening to respond, we need to listen to learn. As PR pros, it's important to remember that we are listening to our audiences to acquire knowledge and gain insight into the expectations of our stakeholders.
We are trying to understand the perception of our brands, products and services, so we can manage our reputation and lean into positive views or make improvements based on negative feedback. We are listening for rumbles of crisis throughout our audiences or indicators that issues may boil to the surface.
Listening allows us to quickly and accurately identify any undertones that are being associated with our brand. This intel allows us to respond quickly and empathetically, potentially leading to additional thought leadership opportunities or minimizing potential crises. Listening also leads to new ideas or strategies to reach your various stakeholders. Listening, learning and implementing new ideas or concepts allows organizations to grow their relationships in both breadth and depth, reaching deeper and wider than previously thought possible.
This takes shape in many ways. We monitor media coverage data for our organization and its competitors. This information helps us understand share of voice and how our organizations are perceived in their respective industries. We analyze that data, providing insights into what the raw data may mean or ways we can better improve our PR efforts and tactics. Finally, the data and analytics allow PR pros the ability to determine trends and stay ahead of stakeholder needs and wants.
Need a little extra help putting these public relations listening principles into practice? Drop us a line – we're happy to help!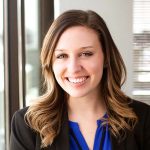 Madison Quamme
As the public relations manager, Madison leverages a strategic approach as she plans tactics to effectively communicate with audiences across various channels. Driven by relationship cultivation, Madison serves as a trusted partner to clients, as they nurture connections with their stakeholders. She brings passion and experience in strategic planning, internal and external corporate communications, public positioning and reputation management. Prior to joining Flint, Madison served as an account manager at Ironclad Marketing, a public relations and marketing firm focused in heavy equipment. She was responsible for providing strategic insight for clients as well as quarterbacking and executing annual marketing plans. Additionally, she brings experience in the civil engineering and healthcare industries.