Public relations is often used synonymously with media relations, but newsrooms are swamped, and media outlets are working diligently to create more content with limited resources. Simultaneously, advertising budgets are following target audiences to a digital focus. In response to the current climate, PR pros are tasked with finding new ways to build trust with stakeholders.
2020 continues to demand that marketing and communications evolve and innovate. The public relations industry is taking the opportunity to move closer to an industry ideal. In its more than 120-year history, public relations have been heavily focused on media relations and creating earned media opportunities; however, audiences are turning to social media and blogs for information.
PR is, and always has been, rooted in storytelling and creating meaningful, mutually beneficial relationships between organizations and its stakeholders. As PR pros, our job is to:
Cultivate trust
Provide resources
Act as a partner
The industry extends far beyond the tactical components of media outreach, press releases and pitches. Public relations provides a strategic approach to all communications – internal and external – to best position an organization and manage its reputation.
2020 has made the need for an industry shift more apparent than ever. I compare public relations to a bank account. By acting as a proactive community partner, we place deposits into our organization's bank account. We want the bank account to have a large, positive balance in the event we need to manage an issue or crisis.
Rather than high dollar branded blanket campaigns, organizations are focused on starting conversations with targeted audiences. Public relations is moving toward the production of visual content to convey a message. With millennials as the biggest demographic, integrated and flexible campaigns – in the forms of GIFs, infographics, and videos – are accessible and easily digestible.
Public relations fosters goodwill and trust between stakeholders. PR pros can shift their attention to leveraging relationships with:
Community partners for cross promotion
Nonprofits, for amplification of organizational support
Employees, to create a brand ambassador program

These programs are employees with the necessary tools to speak the company's mission and main messages.

Social media influencers
Technology allows organizations to tell their story directly to their key audiences, as opposed to trying to convince news outlets to tell the story. By speaking honestly to your stakeholders, organizations create transparency and trust with stakeholders. Tools such as Facebook LIVE allow organizations to act as their own outlet. By leveraging Facebook LIVE or other nontraditional mediums, as opposed to traditional approaches like press releases and media pitches, spokespeople have control over the message and interaction with the audience.
As always, analytics allows PR pros to manage an organization's reputation and measure efforts. Monitoring media coverage for trends, reach and sentiment as key performance indicators remains a necessary focus; however, finding correlation between your public relations efforts and an increase in your website traffic via Google Analytics can also show successes and areas of improvement.
Looking to brainstorm creative ways to up your PR efforts? Drop us a line at news@flint-group.com.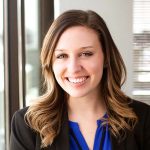 Madison Quamme
As the public relations manager, Madison leverages a strategic approach as she plans tactics to effectively communicate with audiences across various channels. Driven by relationship cultivation, Madison serves as a trusted partner to clients, as they nurture connections with their stakeholders. She brings passion and experience in strategic planning, internal and external corporate communications, public positioning and reputation management. Prior to joining Flint, Madison served as an account manager at Ironclad Marketing, a public relations and marketing firm focused in heavy equipment. She was responsible for providing strategic insight for clients as well as quarterbacking and executing annual marketing plans. Additionally, she brings experience in the civil engineering and healthcare industries.