Today the one and only Roger Reierson, CEO of Flint Group and RR46, was awarded the Beta Gamma Sigma Chapter Honoree award at North Dakota State University Barry Hall.
Beta Gamma Sigma (BGS) is the International Business Honor Society, recognizing and fostering relationships between top performing students and alumni from around the world since 1913.
Each year, the NDSU BGS chapter recognizes one community member who has given back tremendously to Fargo Moorhead in a business capacity and upholds the qualities BGS fosters: Honor, earnestness, and wisdom. We can't think of a better way to describe Roger Reierson.
Growing Flint Group
As a business owner, Roger is never still—he is the quintessential moving force. His entire career has been spent making things grow, and Flint Group is one of them.
In 1976, Roger got his start in account services for the Flint Agency. "He joined when there were only thirteen employees, and the first office was in Fargo's Black Building," Susan Hogan, longtime Flint Group employee recalled. "It didn't even have windows. And we all had ashtrays at our desks!"
Today, Flint Group has expanded to include agencies in Fargo and Duluth (our offices do have windows now, if you're wondering). Flint Group has since joined RR46, a group of like-minded communications companies of which Roger is also CEO. A large part of Roger's success comes from his ability to recognize ideas that work and empower teams to deliver.
Giving back
Community involvement has always been—and continues to be—a passion for Roger. Remember how much he loves to make things grow? This especially applies to philanthropy and his work within the nonprofit sector of Fargo Moorhead.
"He has taught all of us that community involvement and support is part of the job," Flint Group president Jodi Duncan said. "He believes that, and he lives that. He exemplifies 'leading by example.'"
Previous volunteer ventures have led him to serve as chairman of the Fargo-Moorhead-West Fargo Chamber of Commerce, chairman of the Greater North Dakota Chamber and chairman of the North Dakota New Economy Initiative; he also has sat on the board of directors of Children's Village since 2009 and remains heavily involved in NAMA.
Investing in people
Roger has always put people ahead of the bottom line.
"We are so fortunate to work for such a good, kind-hearted and generous human-being," Duncan said. "He is so authentic and genuine."
As a husband, father and grandfather, Roger wholeheartedly cares for his family.
"I've been lucky to have him as a father and mentor in business and life. He has always set a great example of how to treat people, share your time and energy, and strive to make your community a better place," Andy Reierson, Roger's son and COO of Flint Group and RR46 said.
When he isn't visiting clients or picking at the office candy jar, he especially enjoys golf and hockey. In fact, Minnesota hockey is in his blood—he hasn't missed the high school championship game in over fifty years.
Congratulations and well-deserved, Roger! We'll close with a fun fact: Roger is an honorary Chief in Ghana, Africa. His Ghanaian name is Nai Ahor Mota-Acquah.
You'll have to ask him for the story.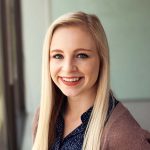 Libby Bahr
Libby joined Flint Group as a social media and public relations intern in 2018. She has experience in content creation, social media implementation and copywriting for clients across various industries, including professional services, manufacturing and retail. She was promoted to join the social media team full-time upon her graduation from NDSU in 2020. Through her range of experience, Libby has developed expertise in social media tactics and copywriting. She plays a key part in implementing and coordinating Flint Group's social media services.