Today, we're celebrating the hard work and dedication of a special Flintster.
Sadie Rudolph, public relations manager and strategist at Flint and a role model whose work and ideas have touched many regional communicators, was given the Communicator of Achievement award for 2019 from the North Dakota Professional Communicators (NDPC).
Communicator of Achievement is the highest honor the NDPC can bestow upon one of its members. The award is presented annually to a member of the NDPC and the National Federation of Press Women (NFPW) who has "distinguished him or herself within and beyond his or her profession."
This award judging is based on professional achievement, community service and support to NFPW and NDPC. Sadie clearly embodies each characteristic. She's a respected media and public relations coordinator in the Fargo community with a professional background in some of the area's largest organizations: Eide Bailly, North Dakota State University and Flint Group.
Sadie started her career as a writer and eventually moved into public relations. She has extensive experience in storytelling, crisis communications, media relations, event coordination and integrated communications planning. She possesses extensive knowledge on how an organization can build and maintain a positive image.
Sadie most recently worked as the media relations coordinator for North Dakota State University, where she served as the university spokesperson and coordinated with local, state and national media.
Serving as the spokeswomen for a university, especially one of NDSU's scope, poses many challenges. Crisis communication is demanding (to say the least), and yet Sadie remained calm, cool and expertly collected.
Sadie found her way back to Flint Group as public relations manager and strategist following her time at NDSU. Flint President Jodi Duncan says Sadie's infectious personality and "can-do" attitude fits well in the agency world and allows her to always look out for her client's best interests.
"The positivity and fresh perspective that Sadie brings to Flint is uplifting," Jodi says.
Former Flint Group employee Nate Gilbraith wrote, "working with Sadie always resulted in three things: a valuable lesson in PR, a satisfactory piece of work and lots of bonding." We can surely confirm.
Sadie is a genuine people person and is constantly driven to learn and deliver for clients. She earned a master's degree from North Dakota State University, where her thesis covered the integration of social media in crisis communication plans. Oh, and she wrapped up this thesis the night before giving birth to her second child, Crosby Jon. She defended her research and graduated just six weeks later.
Outside of work, Sadie spends time with her husband, seven-year-old daughter Harper and son Crosby, now four. Her family stays active in many activities, including dance and swimming. When she needs a little time to herself, she trains for the half marathon.
Since 2009, Sadie has been an NDPC member and has served on the board of directors since 2004. Currently, she serves as the first vice president for membership.
Please help us congratulate Sadie on her hard work, dedication and well-deserved recognition. We're so fortunate to have her on our team!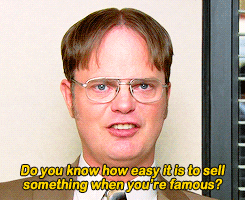 Is your business looking for public relations assistance? Hint, hint… we know someone pretty awesome to connect you with. Contact us.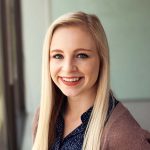 Libby Bahr
Libby joined Flint Group as a social media and public relations intern in 2018. She has experience in content creation, social media implementation and copywriting for clients across various industries, including professional services, manufacturing and retail. She was promoted to join the social media team full-time upon her graduation from NDSU in 2020. Through her range of experience, Libby has developed expertise in social media tactics and copywriting. She plays a key part in implementing and coordinating Flint Group's social media services.