As communications strategists and consultants, we meet with business leaders from organizations across various industries. Our job is to help solve problems, deliver value and ultimately, to help sell more product or service to their target audiences, resulting in more revenue to their bottom line.
One of the first questions I ask is, "Why would someone choose to do business with you versus your competitor who offers similar (or the same) products and services?" Nine times out of 10, the answer is the same–"our service." Yet when probed, there are rarely supporting statements that clearly articulate what "service" is winning over customers and prospects. And, when secret shopped, the service is not something to rave about.
Service is one of those vague overarching intangibles that we try to quantify with net promoter scores (NPS), customer effort scores (CES), average wait times (on phone), satisfaction surveys and more. What I think actually drives differentiation and affinity is experience. Experience is the sum of all touchpoints with your brand. Some touchpoints (phone call, website visit, invoice, advertising) have more of a positive impact than others.
What can really set you apart is delivering an experience that is better than expected. It's one that stops you in your tracks, big or small. It surprises you and has you sharing the experience with friends and family. Good service is expected.
Let's look at some experiences that deliver:
A women's retail store offering a playroom with Goldfish crackers, movies and games with an attendant so their customers can shop distraction-free. Brilliant!
Your banker makes a personal visit on the weekend to deliver paperwork to your home and talk next steps.
The local grocery store hands out fresh baked cookies to little ones and coupons to parents for their baked goods purchase.
Some may argue this is service. I argue it is an experience rooted in relevance and knowing your audiences. When you can take your touchpoints and step out of your internal lens into the lens and perspective of your audience, that is when the real magic happens, and the experience can be transformed.
Let's go back to that client who claims "service" is driving their bottom line. I challenge you to start with a list of use cases, or the common tasks (making an online bill payment, scheduling a consultation to learn about new services, etc.) customers or prospects go through in their experience with you. Ask yourself: Was it easy? Intuitive? Engaging or fun?
After a reflective exercise such as journey mapping, organizations most often walk away scratching their head thinking, "Why would anyone ever do business with us?" There are always opportunities to improve the holistic experience. Before you jump to service as your shining star, take an introspective look and define exactly the experience that wins your audiences.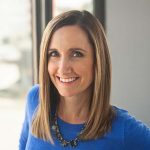 Andrea Morrow
With over 20 years of experience, Andrea is known for developing marketing communication plans that work hard for clients and exceed goals. Her strategic direction will find solutions that tell a brand story and gain business results across platforms to ensure a seamless brand experience for all audiences. Andrea thrives by staying on top of details, analyzing results and pushing for growth both with her clients and her internal teams. Known for her positive attitude and thinking on her toes, Andrea has lent her expertise to student groups and business groups such as the FMWF Chamber. Andrea's high-energy style is put to good use at home with her husband and their three kids. Luckily, she finds time to enjoy lake life during the summer.