Navigating a new job at any point in a professional career can often be overwhelming. Doing so during a global crisis only further compounds those feelings. Starting a new position remotely is an unfamiliar setting to what we are use too.
Below are five key elements from social media coordinator Ava Lipari and public relations coordinator Georgina Orn that have significantly helped them to not only learn and succeed in their new roles but also to grow in personal and professional health during a time of extreme uncertainty.
1. Set work/life balances.
So… this working from home thing. We wake up at home, get ready at home, start our workday at home, eat lunch at home, take our meetings at home, then we turn off our computers at home. And guess what? We are still at home.
We found that the key to maintaining a work-life balance is to create a schedule and keep a routine. This can help to ease some of the stress that comes with working from home. It is also important to set your work hours and log off at the end of your workday. Remember, you give eight hours a day to a company; it is okay to take time and care for yourself.
2. Set communication standards.
Naturally, one of the biggest challenges of working remote is communicating with people via email that you have never met. We recommend being yourself through messaging! The pandemic and working from home have shown us that the corporate language we are taught in college is not as significant as we thought. It is okay to talk to people like they are people!
3. Get to know your coworkers virtually and in person.
Working remotely for the first five months of your job can limit you socially. Coming back into the office and finally meeting people face to face can feel like meeting your coworkers all over again! Our team did a great job of hosting virtual happy hours, trivia and games. We found that by taking this time to get to know each other virtually, it helped us engage and connect with each other in person.
4. Set up a new workspace at home.
Circling back to the first point, creating a space for just work can support the work-life balance. Of course, we've all worked from the comfort of our couch, but it is important to create that boundary for your mind.
5. Just ask the question.
Starting a new position, you already have questions. Starting a new position REMOTELY is another story. With that being said, ask questions and for help. Your team and supervisors are there to support you. Trust us, there is no such thing a "dumb" question.
As we start transitioning to working in the office, Flint offers the flexibility for us to work where we are most comfortable. Control over your work schedule can be crucial when it comes to balancing the needs of your personal life, like dropping kids off at school or doctor's appointments. One of our core values is "Be where you are needed most," and we truly live that.
We are thankful for starting our careers with a department of supervisors and colleagues who are compassionate and excited to see us grow professionally and personally!
If Flint sounds like somewhere you would like to work, be sure to check out our open positions: https://flint-group.com/careers/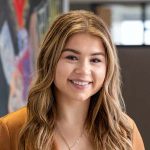 Georgina Orn
Georgina is a public relations coordinator on Flint Group's social media and PR team. She got her start at Flint Group as an intern in 2019, creating social media content. Today, Georgina has a passion for creating press releases, newsletters and social media content that helps her clients share their stories. Outside of work you can find her cooking, reading, writing and volunteering at Special Olympics North Dakota.