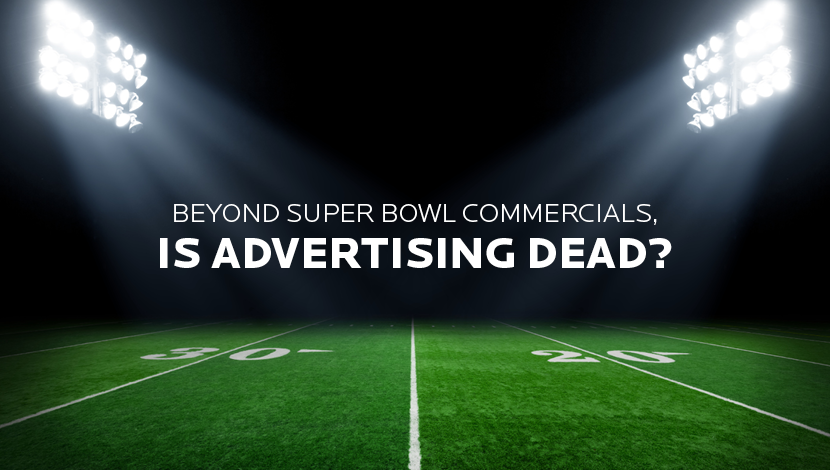 On Sunday evening, the Super Bowl and its commercials will again reach a gigantic audience with a uniquely wide span of genders, races and ages. For companies, the earned impact of airing a TV ad here can be a smart investment.
Consider this:
Last year, 111 million people watched the big game. In fact, Super Bowl broadcasts have nine of the 10 most watched TV events in U.S. history (the "M*A*S*H" finale has the other spot).
This year, a national 30-second commercial during the Super Bowl costs $5.5 million. In the first Super Bowl, 1967, it was $42,000. Regional and local commercials during the big game get a hefty price, too.
Our view?
We've placed our clients' commercials in regional and local Super Bowl ad slots throughout the years, yet only when that media buy fits broader marketing objectives.
That's our overall approach to our clients' marketing and advertising playbooks, too. So to us, advertising is not dead—even beyond Super Bowl ads.
We recommend "traditional" advertising (TV, radio, print and billboards) when it is impactful yet on-brand and when it opens up greater opportunities for cross-channel expansion. Most importantly, all tactics must map back to an organization's overall goals and strategies.
Give all ads more life
For instance, a TV commercial can also live on a company's YouTube channel and be edited to different formats for impact in social media posts. It can be shared in public relations efforts. (Notice how many companies gave us a sneak peek at their Super Bowl ads again this year? See a few of this year's Super Bowl commercials here.
ROI for Super Bowl ads & beyond
As with all our recommendations for clients, we also focus on return on investment of every tactic. As far as Sunday's big event, these are the ads that do best in Super Bowl placements, according to Advertising Age:
Upcoming movies – On average, films advertised during the big game generated 2.8 times more income at the box office than the cost of the commercial. This year, look for Super Bowl ads promoting "Transformers: The Last Knight" and "Baywatch."
Social issues – Remember P&G's #LikeAGirl campaign in last year's game? It deepened the P&G brand's relationship with consumers by meshing with an issue that ties to its core values. Oh, and it tripled its Twitter followers and increased its YouTube channel subscribers by 4,339 percent.
Unknowns – A Super Bowl ad can build name recognition. Just ask Wix.com, which had a 54 percent revenue growth in the first three months after its first Super Bowl ad. Of course they did other advertising, but reaching a huge audience with no knowledge of a product can make a big impact.
What's your game plan?
Interested in how you can refresh your advertising? Check out all of our capabilities and contact us.
Enjoy the big game—both the alive-and-well advertising and on-field action!