In the Musk vs. Zuck fight, Zuck is winning today.
This week, Mark Zuckerberg welcomed 10+ million early adopters to Meta's new app, Threads, with the message, "Let's do this. Welcome to Threads."
With the familiar functionality of Instagram's "heart," comment and share buttons, Threads is Meta's answer to Twitter and was built by Meta's Instagram team.
It's a scrollable feed like Twitter, and users can add images and videos to their Threads. Threads are, as the name implies, conversations. Currently, there's a 500-character limit to a Thread post. Users can engage by "liking" via the heart button, commenting, or reposting.
Adoption is exceptionally easy because people and brands who already have an Instagram account can import their username and bio. Instagram verification check marks transfer to Threads, and because you're importing your username, it facilitates easy following of your favorite accounts.
Brands are taking to the app, and advertising will be available, too. Zuckerberg said in a Thread that they're focused on "kindness and making this a friendly place," a welcome idea for anyone who's witnessed the Twitter chaos in recent months. Instagram's community guidelines will be enforced on Threads.
What does it mean for brands? Threads is all about engagement, and users will need to be fast and active to succeed on the platform. It's the most conversational app we have right now, and it's a direct line to celebrities, politicians, and brands. The communication on Threads feels intimate, and brands will need to know their voice and trust the teams running their socials to operate in the extra fast pace of Threads. It's an opportunity for more transparency, authenticity, personalization, and community.
To that, I say let's do this.
Curious if Threads is right for your brand? Reach out to Flint Group's talented team of social media pros!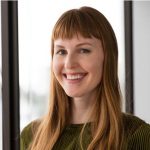 Anna Larson
Anna is a social media and content strategist and PR/social manager who creates community online and offline. Her 15+ years of experience helps organizations deliver engaging content on social media. She knows that adopting a customer-centric mindset is at the core of developing a strong brand and telling an impactful story. Anna provides both the detailed and big-picture thinking for clients. A natural born problem-solver and teacher, she never stops seeking out new ideas and inspiration. Her greatest passion is leading with empathy and helping her team grow and feel valued. She loves Brené Brown quotes and a good heart-to-heart. At the end of the day, what matters most to her is knowing she helped make a difference.