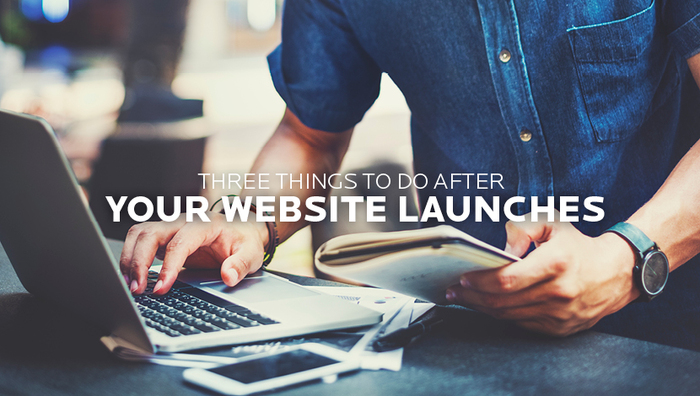 After spending weeks or months planning, designing, developing and testing your new website, it's finally launched. That doesn't mean the project is done.
1.   Monitor
Even after performing thorough quality assurance (QA) and user acceptance testing (UAT), chances are launching the site means it's had to move from a staging or test server to a live server; from a test URL to a live one. It's easy to miss small things during that process that have big consequences. A few key checkpoints:
Make sure your robots.txt file isn't blocking search engine or regular traffic
Make sure your tracking codes and pixels are properly installed
Make sure your internal links are pointing to the live site versus the staging site
Make sure you have properly set up your DNS and are accurately rerouting all subdomains, subdirectories and vanity URLs
Make sure users aren't getting 404 pages for key content (and that you are using 301 redirects to reroute URLs that have been changed)
If you are using Google Analytics or a similar tracking solution, monitor the traffic the new website is getting. For a redesign, is the traffic similar to historical data? For a new website, is your traffic steadily increasing?
2.   Measure
As part of the planning process, you should have outlined two to three key performance indicators (KPIs) that measure your website's success. After you get enough traffic to become statistically significant, verify that you are attaining your conversion goals. Are you hitting key thresholds?
Check your website status within search engines. Verify your new keyword and content strategy is improving your ranking.
3.   Improve
A website gives businesses a unique opportunity to be agile. If you have achieved your initial KPIs, then set new goals. If you haven't, there are many testing opportunities that will provide insight into making improvements.
User testing
A/B testing
Multivariate testing
Polls
Client surveys
We encourage you not to skip these three important steps. If you'd like guidance, we're always happy to help. Just drop us a line