The impact of the COVID-19 pandemic will continue to drive healthcare marketing communications in 2021.
This year, the key to successful marketing communications will be building and maintaining strong brands healthcare consumers trust, by having compelling, useful, and targeted communications and providing easy-to-use digital tools to engage customers.
1. COVID-19 pandemic awareness and education campaigns will continue to lead marketing communications activity.
There will be a continued focus on the importance of wearing a mask, physically distancing, and taking other CDC-recommended precautions to help control the spread of COVID-19.
Many companies will create educational content about the safety of COVID-19 vaccines and encourage people to get their vaccinations as soon as it is their turn.
As agencies, we will need to help clients communicate these messages with clear, compassionate, convincing messaging that focuses on the who, what, why, how, and where.
Brand trust and transparency is key to people believing these communications.
2. COVID-19 isn't the whole pandemic story.
Marketing communications activity will start having a stronger focus on the long-tail impacts of the pandemic. According to health care researcher Advisory Board, as of June 30, 2020, 41 percent of U.S. adults delayed or avoided medical care because of COVID-19 concerns.
Healthcare organizations are starting to look ahead to some of the pandemic's residual health effects that stem from deferring preventive care and from being subjected to stress and social isolation.
Additionally, stress and isolation are health risks, too. Across the country, social isolation has been linked to a 29 percent increased risk of heart disease and a 32 percent increased risk of stroke.
Additionally, 53 percent of Americans reported their mental health has been negatively impacted by stress and worry over the virus.
Marketing communications will need to:
Create awareness of and educate audiences about the potential long-term health impacts of the COVID-19 pandemic.
Engage healthcare consumers in actively managing their health by scheduling appointments, taking advantage of preventative care, managing chronic disease conditions, and staying current on their immunizations.
Convey the importance of social health and the actions people can take to stay healthy in 2021.
Each of these campaigns should incorporate clear, creative content in targeted paid, earned, shared, and owns channels.
3. Patient and customer experience is key.
To effectively engage healthcare consumers in 2021, healthcare organizations need to ensure they are providing a seamless, easy experience for their customers.
New and enhanced tools such as doctor and appointment schedulers, vaccination finders, preventive screening and immunization calendars and alerts will be key to success.
Agencies need to work with their clients to audit their existing communications, tools, processes to identify areas that need to be addressed to improve patient and customer experiences.
4. We will continue to communicate in a remote, isolated world.
As people continue to work remote, gather in small groups and travel less, finding new ways to reach and engage audiences is important.
Agencies need to have a deep understanding of their clients' target audiences and how best to reach and engage those audiences.
Tactics include:
Developing research-based personas of priority audiences.
Writing a message matrix and content strategy by audience.
Identifying the best channels and methods to reach and engage audiences.
Monitoring and analyzing data to continually optimize messaging and channels.
5. The importance of and ability to quickly pivot is crucial.
If 2020 taught marketers anything, it is that pivoting is key.
Last year, we learned the importance of being able to shift marketing communications quickly to address the COVID-19 pandemic. The need to quickly adjust messaging and channels will continue into 2021 as healthcare organizations and agencies monitor how the pandemic evolves.
Agencies need to be both creative and analytical to be able to successfully adapt marketing communications to address the evolving pandemic and its impact on healthcare audiences.
Interested in learning more about healthcare marketing communications? Subscribe to our newsletter or contact us.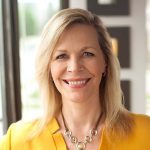 Kimberly Wold Janke
An expert at planning and executing successful integrated marketing communications campaigns, Kimberly has worked in the marketing and advertising industry for more than 20 years. She uses this marketing and advertising experience and her passion for results-driven communication to lead Flint Group marketing teams and educate and inspire at conferences and events. She is well-known among the industry for her work with Blue Cross Blue Shield of North Dakota (BCBSND), including the Bolder Shade of Blue campaign that helped lead BCBSND out of crisis and repair its brand reputation. Her work on this campaign helped earn Flint Group and BCBSND the 2014 Public Relations Society of America (PRSA) Silver Anvil Award.