Earlier this month, Apple announced Mail (email) Privacy Protection feature for their Mail app on iOS 15, iPad OS 15 and macOS Monterey devices. It's set to launch this year sometime between September and November. According to Apple, "Mail Privacy Protection stops senders from using invisible pixels to collect information about the user. [It prevents] senders from knowing when they open an email and masks their IP address so it can't be linked to other online activity or used to determine their location."
Another add-on feature exclusive to iCloud subscribers is called "Hide My Email," a feature built into Mail where Safari allows you to generate random, unique email addresses when you need to provide your email address on a website. It will then forward mail to your actual inbox while reducing the number of lists your legitimate email address appears on.
So, what does this mean for client email marketing strategies?
In short, it means we won't be able to track email open rates when an email is opened on Apple Mail. All emails sent to Apple Mail users that have enabled Mail Privacy Protection will be displayed as opened, even if the recipient ignores it.
According to Litmus Email Client market share data, Apple accounted for 46% of the combined email opens in 2020 and has only grown in 2021. Email open rates are going to be inflated, which will require the industry to adapt and look past open rate as the #1 indicator of email engagement. Other possible ramifications related to this release will be targeting/segmentation based on opens, subject line testing, send time optimization, overall list health and deliverability.
Is there any good news?!
Yes, we're going to adapt! Email open rates are not our only measurement for success.  We'll still be able to leverage several other KPIs to ensure the success of client campaigns.
What does this mean for you? 
Tightening of data privacy is certainly not new for digital marketing, and we anticipate other email clients may follow suit. However, Flint Group is committed to assisting you to navigate these new features while adapting our strategy to drive success and deliver the best experience for subscribers. Email marketing still delivers one the highest ROI of all marketing channels – $42 back for every dollar you spend.
Questions? Please do not hesitate to reach out to the Marketing Automation Manager, Andrew Horst, with any questions.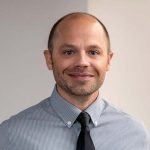 Andrew Horst
Andrew Horst is a marketing automation strategist at Flint Group. He develops strategies that use email, text messaging and other tools to deliver effective marketing content. Along with extensive experience in the health care and health products spaces, Andrew has worked with clients across agriculture, entertainment, manufacturing, finance and many other industries. He truly thrives by discovering new platforms that can serve our clients and their goals. When he's not planning campaigns at work, Andrew loves spending time with family at the lake or volunteering for the American Foundation for Suicide Prevention.