What is 'organic' social media? Tips, strategies and examples for brand success
In the social media marketing world, buzz words are thrown around like dodgeballs in a high school gymnasium. (Did anyone else shudder at that image?)
"Organic" social media is an important one to note, though. It's here for the long run.
In the PESO model, organic social media refers to the posts, photos, videos, blogs, Stories, etc. that brands produce and share on their feeds. Essentially, it encompasses all social media content that's not a paid advertisement.
Why is an organic social media strategy important?
Think of your company's organic social media presence as a long-term relationship with your audience. By interacting with them over time, you have the opportunity to build a brand community of people who are interested in your business.
According to Sprout Social, a brand community is made up of advocates, customers and employees who are emotionally invested; they will purchase from your company, share your content and recommend you to their friends and family.
Setting a strategy with content pillars and business goals helps your company get the most out of social media. It also allows your team to prioritize the content that both works best for your brand and satisfies your audience.
Yes, it takes time for brands to get there – but your bottom line will show that it's worth it. (Check out these stats that demonstrate exactly how social drives business growth.)
What is the difference between paid and organic social media?
We're so glad you asked! Paid social media is just that: any advertisement placed on a social media platform with an allocated budget. Paid social requires the identification of relevant target audiences and achieves different objectives than organic social media.
Often, businesses will launch campaigns that include both organic and paid social. Read below to find out how they differ and how each can be optimized.
Organic vs. paid social copy
In addition to the character limitations on paid social media ads, copy used in organic social media should have a slightly different tone.
Avoid using overly promotional wording on organic social media.
Instead of this (which would work well in an ad): Spring savings alert! Call now to learn more about financing offers.
Try: Our sales team is equipped to help you find the right equipment for your operation. Message us or visit our blog to learn about potential savings!
Notice a difference? Organic social media allows you to tell more of a story about your business. Audiences care about the people behind your brand – anytime you can highlight them, your content is more likely to resonate.
Organic vs. paid social media examples
Ready for some real-world agency examples? See below. ✍️
Your business wants to promote a virtual webinar with social media. How can you most effectively utilize paid and organic tactics?
Organic social tactic: Create a series of posts highlighting the speakers and the benefits of attending.
Paid social tactic: Launch ads on Facebook with a strong call-to-action (CTA) to register.
An organization is hiring for multiple positions. How could they increase the number of applicants?
Organic social tactic: Launch a social campaign that explains why current employees love working for this organization. Showcase the company culture and friendly faces.
Paid social tactic: Place ads on social that target potential applicants and link directly to the application page.
A dealership is looking to garner leads for a specific tractor model. What should they do?
Organic social tactic: Film a series of Facebook LIVE videos where an employee discusses the features of this model.
Paid social tactic: Run a lead generation campaign on Facebook to capture contact information.
Interested in freshening up your organic social media content? 👉 Contact us! We're always happy to chat.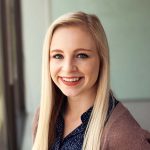 Libby Bahr
Libby joined Flint Group as a social media and public relations intern in 2018. She has experience in content creation, social media implementation and copywriting for clients across various industries, including professional services, manufacturing and retail. She was promoted to join the social media team full-time upon her graduation from NDSU in 2020. Through her range of experience, Libby has developed expertise in social media tactics and copywriting. She plays a key part in implementing and coordinating Flint Group's social media services.