Social media users and brands are buzzing about Instagram's latest release: Reels.
Instagram launched Reels this week, a video feature designed to rival TikTok and provide creators with an alternative platform due to government scrutiny and the potential TikTok ban.
We're *REELY* excited.
Essentially, Reels is a new way to grow your reach on Instagram. It allows you to create and share 15-second videos with anyone on Instagram through your Feed, Stories, or the Explore page.
You can record and edit multi-clip videos with audio, AR effects, and new creative tools. Then, videos are shared with your followers, and if you have a public account, they will be viewable by the wider Instagram community.
Read more about the opportunities to express yourself and your brand from Facebook's blog!
Not sure what's next? Here are some basics to get you started creating content. 👇
What's the difference between Reels and TikTok?
Reels is a feature on Instagram, while TikTok is a standalone social media platform.
Editing features are all accessible within the Instagram app.
Instagram adds a separate tab to your profile for Reels.
Reels videos can be 15-seconds long, while TikTok videos can last up to one minute.
What are the similarities between Reels and TikTok?
Users can add music used in other clips for remixes and responses.
Editing features include the option to speed up or slow down parts of the video, add text, etc.
Users can upload prerecorded videos to the editor.
How do I create Reels?
Record Reels in a series of clips (one at a time), all at once, or by using videos from your camera roll. Record the first clip by pressing and holding the capture button. You'll see a progress indicator at the top of the screen (similar to Stories) as you record. Stop recording to end each clip. Edit each clip as you go–you can't go back and edit the first clip if you're already on clip three, for instance.
Later provides a detailed guide to building, editing and promoting Reels on Instagram. Visit their website for helpful info to get started.
How will Reels affect my company's social media presence?
Because Reels shows up in a special part of the Instagram Explore page, videos can reach new audiences on a global stage. Engaging with this feature will help your business optimize the platform and attract new viewers to your page.
We predict this launch will continue to push Instagram forward as an important platform where audiences will continue spending more and more time.
If your brand is already on Instagram, you may notice increased engagement as you share new content.
Questions for us? Reach out! We're always happy to talk about social media strategy.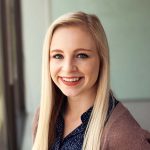 Libby Bahr
Libby joined Flint Group as a social media and public relations intern in 2018. She has experience in content creation, social media implementation and copywriting for clients across various industries, including professional services, manufacturing and retail. She was promoted to join the social media team full-time upon her graduation from NDSU in 2020. Through her range of experience, Libby has developed expertise in social media tactics and copywriting. She plays a key part in implementing and coordinating Flint Group's social media services.