Social media continues to grow in popularity, size and channels. With new platforms and constant updates to current platforms, it's important to stay ahead of the competition and continually educate yourself and your brand. Below we've laid out five of the top social media trends we're keeping our eyes on in 2020.
The rise of TikTok
Say hello to the new content powerhouse, TikTok. Much like the retired social media platform Vine, TikTok specializes in short-form video sharing. With an emphasis on younger demographics, TikTok has over 500 million users actively creating and sharing content.
So, what does this mean for your brand? At the moment, TikTok is early in its advertisement and brand structure. Though, as it continues to grow, we expect to see a rise in brand usage of the platform. Before jumping on the TikTok bandwagon we recommend you think about what content seems appropriate for both your brand and the platform. If nothing seems quite right, you might not be ready. For inspiration, check out these seven companies that are doing it well.
(Read more about how TikTok can be a benefit to your brand)
Expect to utilize live content more
As platforms continue to develop and advance, we expect to see a rise in the usage of live content on platforms like Facebook and Instagram (and recently announced on LinkedIn). Particularly useful to organizations, live features allow consumers to interact with you in real-time, no matter the distance. Do you have an event coming up in the future? Or a big announcement you're preparing for? Consider utilizing live features on platforms to interact with your consumers in real-time.
Video content will continue to be huge
If engagement is one of your goals (and who's isn't, really?), video continues to yield the highest results of the leading content types. Consumers are naturally drawn to eye-catching content, and video allows you to tell a story, educate and demonstrate more effectively than a still image or graphic. With new platforms – like TikTok – specializing in video content and existing platforms placing a priority on video content, the demand is only going to continue.
We'll be buying more retail within the platform
Expect an easier and more streamlined process to social commerce in 2020. As social intelligence continues to improve on platforms, we will see a rise in the utilization of chatbots by platforms. Chatbots will help connect with consumers to ease the process of purchasing products. Instagram and Pinterest debuted several new shopping features in 2019, and we expect all the major platforms to continue that trend.
Use of influencers in more authentic and meaningful ways
People trust people "like me" more than anyone. This has led to the widespread use of influencers are both a micro and macro level. New surveys show that trust appears low on the current state of influencer marketing, but we predict 2020 will be the year brands start using them smarter by choosing people who more authentically fit what they're trying to sell and dictating the content less. And that's great news because research shows that 59% of marketers plan on increasing their influencer budget in 2020.
Want help with any of these social media trends? Contact us today!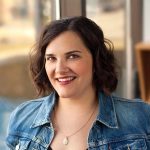 Heidi Reisenauer
Heidi is a social media and digital content strategy expert. A recovering journalist, Heidi understands how to effectively reach any audience through precise messaging. She also knows how to leverage earned media, social media and analytics in the most efficient, effective ways possible. From an individual post to an extensive campaign, Heidi enjoys seeing the big picture and finessing the fine details of a project. Heidi's zeal for social media is matched only by her desire to formulate creative, interesting and meaningful content. She and her team study the most effective tools and latest features of social media to determine the best uses for clients to fulfill their marketing goals.