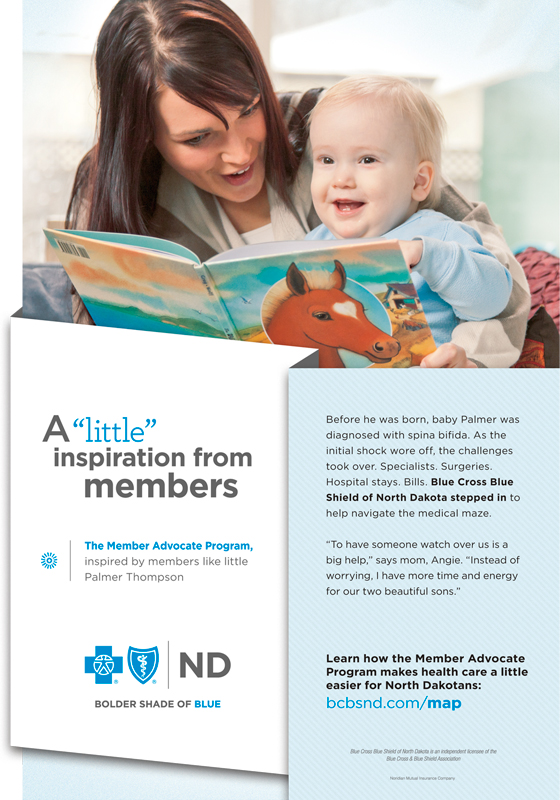 Amid the recent health care crisis – and the resulting finger-pointing political debate – our long-time client Blue Cross Blue Shield of North Dakota (BCBSND) came under fire. Sensational news stories blamed health care companies like BCBSND, exposing fallacious theories about exorbitant salaries, perks, golden parachutes and other frivolous spending.
BCBSND needed to respond. It needed to set the record straight. To reassure its members and regain their confidence.
Same company, revived moxie
Flint Group created a campaign to show how Blue Cross Blue Shield of North Dakota was resolving the crisis; it was taking things into its own hands, pushing boundaries, instigating new ideas and staying true to its founding principle of providing affordable, high-quality health care for its customers.
It was a bolder shade of blue.
We've implemented the campaign in a variety of ways, including the Blue Insight blog, the Bold Move recruitment site, internal initiatives, print ads and TV spots.
Our latest round of bolder shade of blue ads is driven by member testimonials –using real stories highlighting how BCBSND BOLD initiatives have impacted real people:
Building a bolder shade of blue
In approaching this challenge, we knew BCBSND needed to respond. But without sounding defensive or adding fuel to the fire.
That's when our research team turned up something interesting: People, BCBSND employees included, were tired of the politics. They were tired of the finger pointing. They wanted somebody to stand up for them – to stand with them. To speak for them. To protect them. And then the key insight.
Drumroll please ….
It was BCBSND that they wanted – but bolder.
The hard-hitting, fact-based bolder shade of blue campaign not only got the company off the sidelines, but it also proved to people that it was the tried-and-true BCBSND. The one that their parents had relied on. The one they could trust. The health care company that was staying true its founding principle – to provide affordable, high-quality health care to all its members.