Social media platforms rapidly evolved in 2020 as we all hunkered down to WFH and social distance. So, what's next? Flint's Social Media and Public Relations Director Heidi Reisenauer shares the trends she expects to see in 2021 for organic social media. Overall, brands should shift from trying to be everything and instead focus on what their audience wants to see. 
"I see a lot of brands and businesses still posting about every aspect of their organization. Focus on what your audience wants to hear or learn about. Choose KPIs and focus only on a few." –Heidi 
Here are 8 social trends we expect to see in 2021, along with strategies you can use to get ahead of the curve. 
1. Concentrate on your culture. 
Be focused on the "how-to" content. Avoid talking about sales, promotions, or any hard conversation with a call-to-action. 
2. Platforms will continue to tighten up user data, security and verification. 
What can be posted will continue to be strict. Take Facebook for example—posts, comments or advertisements are frequently denied for guideline violations. Following the Black Lives Matter protest, the election year and misinformation about COVID, all platforms will continue to find their role in how to label, remove and ban content. 
3. TikTok and Reels will take off.  
2021 is the year TikTok is taken seriously by business. This platform continues to grow as security concerns in the U.S. have been tempered by Oracle's acquisition deal. If your business is trying to reach teens and young adults, it's an important platform to consider. With that said, other audience segments are jumping on board as well. TikTok is a platform that needs a high investment of time to create authentic feeling content, so brands should carefully look at a strategy for how to use it. Learn about Reels and TikTok. 
4. Augmented features will be huge. 
Face filters, lenses and in-stream shopping will continue to grow on all platforms. Instagram's latest update made shopping easier by tagging product costs and the purchasing website in posts. The homepage was also adjusted to have a shopping tab. TikTok, Snapchat, Facebook and others have started incorporating similar features. Augmented reality that is already in place will be perfected. Tools such as "try it before you buy it" with photos of rugs, couches, etc. will be more common as online shopping is utilized. 
5. Platforms will invest in and diversify live options.  
It's no secret 2020 changed the event world: Virtual events are a whole new experience and will continue to be around. Facebook's Live feature is strong, and advancements will come into play as virtual events grow. Looking for tips on how to host a successful event? Here are 7 tips and a behind-the-scenes look. 
6. LinkedIn advanced analytics offer more insight. 
Advanced analytics can tell you a lot about your audience so you can compare your content to what the audience reads and engages with the most. Find out how to get noticed on LinkedIn. 
7. Facebook standpoint grows.  
Facebook Messenger, Instagram direct message, and WhatsApp will merge. All of these messaging tools are owned by Facebook and are merging to combine the capabilities into one. The downside is employees in the digital field will feel they can't unplug. Be sure to take time for self-care—here are some tips. 
8. Influencers will be heavily used, but in a different perspective. 
Throughout 2021, influencers will start to take on a new role. They'll be more personable and not overly pushy. A new badge on Instagram makes partnerships more known and apparent.   
Need help implementing these trends into a social strategy? Let's talk!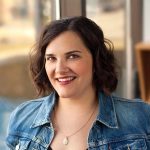 Heidi Reisenauer
Heidi is a social media and digital content strategy expert. A recovering journalist, Heidi understands how to effectively reach any audience through precise messaging. She also knows how to leverage earned media, social media and analytics in the most efficient, effective ways possible. From an individual post to an extensive campaign, Heidi enjoys seeing the big picture and finessing the fine details of a project. Heidi's zeal for social media is matched only by her desire to formulate creative, interesting and meaningful content. She and her team study the most effective tools and latest features of social media to determine the best uses for clients to fulfill their marketing goals.