The start of a new year is always exciting and can be the perfect time to reassess any marketing strategies and communication plans you have in place. With new technology, shifting customer needs and constantly changing market conditions, it's important to keep your marketing communication (MarComm) plans up to date and relevant.
Steps to developing your MarComm strategy:
Identify Your Audiences
The first step to developing your MarComm strategy is to identify your target audiences. It is essential to understand who your ideal customer base is and who their influencers are, as this will help to guide the development of your strategy. Primary target audiences are those that a company or organization specifically designs their products or services for. Secondary target audiences are those that may not be the primary focus but are still important to the company or organization. They could be influencers, employees, partners and vendors in providing your products or services.
Define Your Goals and Objectives
Once you have identified your target customers, you can begin to define your goals and objectives. You need to have a clear picture of what you want to achieve. Defining measurable goals and objectives will help guide your marketing efforts and will ensure that you stay focused and on track. Make sure your objectives are SMART: specific, measurable, achievable, relevant and time-bound.
Develop Your MarComm Budget
It is important to ensure you have sufficient resources to execute your strategy and you have identified any potential risks and opportunities. You should also take into account any industry trends or changes that may affect your strategy in the near future.
Research Your Audience
Knowing your target audience is essential for creating successful marketing campaigns. Take the time to conduct audience research to ensure you understand the demographics, needs and interests, and behaviors of your target market. Demographic research can include understanding the age, gender, race and income level of a target audience. Needs and interests can include understanding what topics, products or services a target audience may be interested in. Finally, understanding the behaviors of a target audience can help marketers determine the best channels for reaching them. Using the insights gained from research, you can develop a persona for each audience segment. This will help you tailor your message and content to better connect with customers and generate more leads. Check out "The Customer Speaks First" to learn how to get started with discovery on data and information that will enhance your planning.
Develop Your Unique Brand
Think about the story behind your business and how it sets you apart from the competition. Once you have a clear story in mind, you can start to create content that tells that story. Establishing a unified visual identity is essential to creating a successful brand. Choose colors, fonts and images that represent your business and stick with them across all marketing materials. Check out "How to Create a Brand."
Choose Your Channels
Once you have an understanding of your audience, you can begin to select the channels that will best reach them. Consider which channels your audience is most likely to use and create a plan to engage with them. Popular PESO channels include paid media (traditional and digital), earned media (public relations, press releases, influencer marketing), shared media (social media, forums, communities) and owned media (websites, blogs, email newsletters). Here's a primer on how to use the PESO model.
Create Content
Using audience insights gained during the research phase, develop engaging and relevant content for each of the identified channels needed to reach your target audience. Aim to provide value and focus on topics that your audience cares about. Utilize various formats, such as videos, images, blog posts and infographics. You can also "work smarter, not harder" by repurposing existing content.
Monitor And Optimize
Monitor the performance of your PESO channels to measure success. Analyze the metrics to determine which channels and content are performing the best and adjust your strategy accordingly.
Evaluate Results
Measure and track the effectiveness of the strategy. Look at key performance indicators such as website visits, conversions, customer engagement and, ultimately, sales.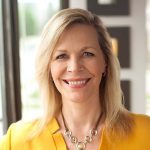 Kimberly Wold Janke
An expert at planning and executing successful integrated marketing communications campaigns, Kimberly has worked in the marketing and advertising industry for more than 20 years. She uses this marketing and advertising experience and her passion for results-driven communication to lead Flint Group marketing teams and educate and inspire at conferences and events. She is well-known among the industry for her work with Blue Cross Blue Shield of North Dakota (BCBSND), including the Bolder Shade of Blue campaign that helped lead BCBSND out of crisis and repair its brand reputation. Her work on this campaign helped earn Flint Group and BCBSND the 2014 Public Relations Society of America (PRSA) Silver Anvil Award.