Client calendars are an opportunity to reflect a brand, tell a story, and be in front of your customers every day. Spee-Dee lives and breathes by all 365 of these little boxes and numbers you find in this calendar year-round. That's some serious marketing time and a creative opportunity to engage customers.
Spee-Dee wanted to remind customers they are in a continuous state of updating their service offerings and shipping tools.
This year, Package Pete was a perfect tool to be a metaphor on how times change and how Spee-Dee keeps up with those changes. A little fact, in case you didn't know: Package Pete is the aptly named character inside the Spee-Dee logo. He represents the hard-working Spee-Dee Delivery employees who have kept the wheels in motion for more than four decades.
About 10 years ago, Package Pete was developed as a dimensional character, leaping off the logo and into the real world for the first time. The technology at that time was new, and, represented Spee-Dee's promise of staying current.
Over the years, as technology improves, Package Pete was due for a makeover as well. The timing was perfect.
Since this was the year to reflect on continuous improvements, we used Package Pete's makeover to symbolize these advancements under the theme, 'It's 2019 for Pete's Sake'. This theme established Spee-Dee's presence as a company with its eye on progress and a disdain for the status quo.
Package Pete's new 3D model included improved physique and detail in facial features and uniform. These updates help build an affinity for Spee-Dee's brand.
Month by month Package Pete strikes a conversation with his customers. In January, while delivering tires to an auto shop, he and the customer enjoy a good laugh. In February, Package Pete gives a thumbs up to a fresh cut. And in June, Package Pete will never pass up an opportunity to befriend a cow.
For the Love of Pete
Creatively, we aimed to position Package Pete seamlessly within real photographs. We worked with a 3D Animator who took the photographs, looked for coloring and lighting, and matched the 3D model to the scenes. Using photoshop, we then touched up shadows and overlays to enhance the depth. Adding to the realism, actual shipping labels were photoshopped to the deliverables.
Other additions included the headlines appearing on embroidered patches. Look closely, those stitches were created digitally as well.
This year's story shows Spee-Dee's help in the success of your business takes on many different shapes and forms no matter how fast your business moves.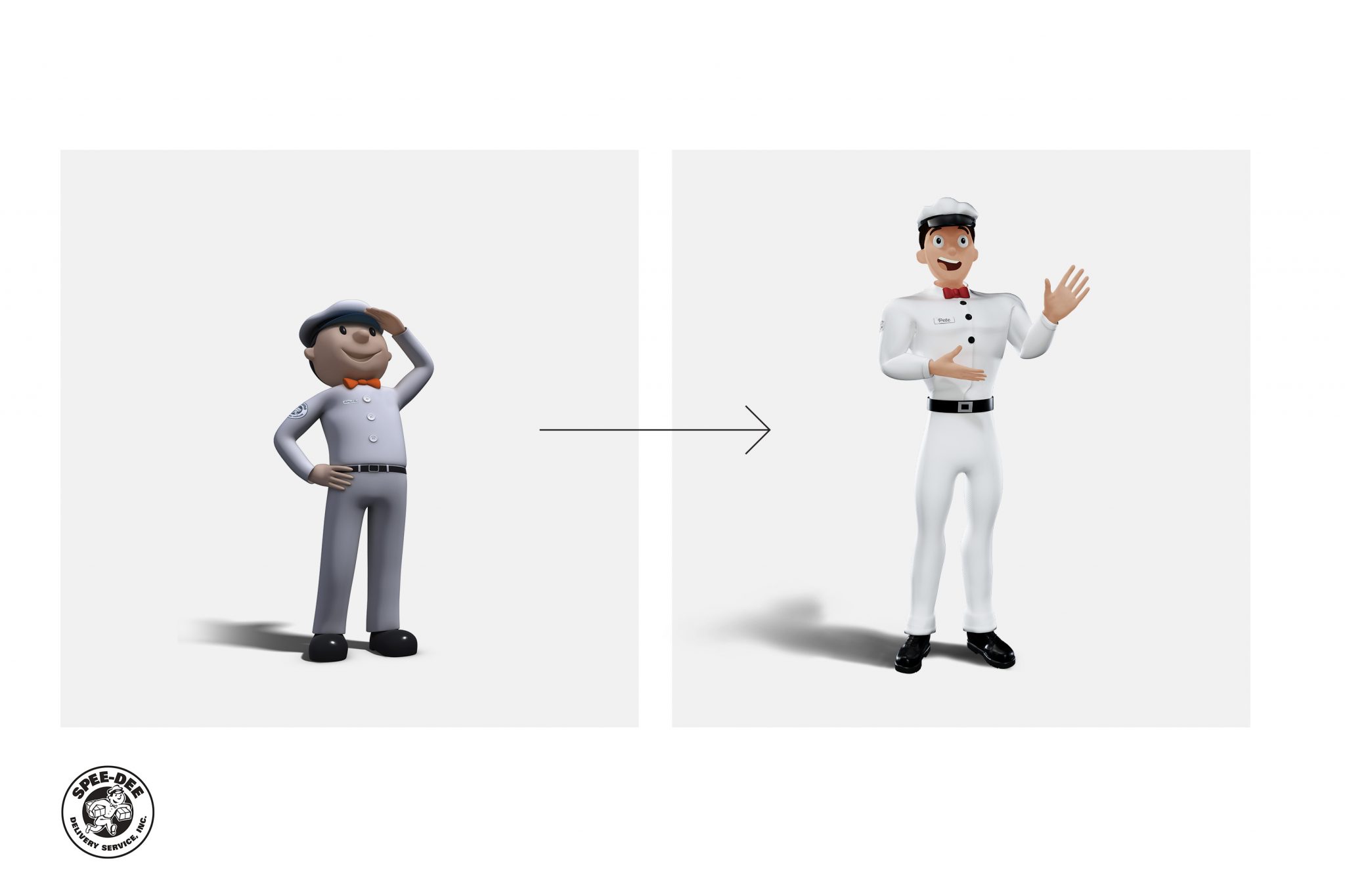 Are you interested in 3D animation for your business? Contact our creative team!