Noridian Healthcare Solutions employs more than 1,500 people and has decades of experience administering government health care programs in all 50 states. In fact, Noridian is one of the few organizations that has administered Medicare claims since its inception in 1966.
CHALLENGE
Although Noridian has a proud history, few people knew of the company outside of the Center for Medicare and Medicaid Services (CMS) and providers. Noridian asked Flint Group to help develop a differentiating brand strategy and increase awareness amongst key audiences, as well as develop a strong employment brand to support their employee recruitment and retention efforts.
SOLUTION
To create an authentic, relevant, compelling and unique brand, we began by gathering insights through a discovery process. This process included meetings with key Noridian staff members, plus reviewing strategic plans, employee engagement reports, employee exit interviews, and the competitive landscape. Our team also conducted interviews and focus groups with Noridian executive staff members, employees, customer contacts and vendor partners to gain additional insight.
Using this information, we proposed, then helped define and build, a corporate brand and corresponding employment brand that align around a single motivating proposition. Insights from primary and secondary market research helped us develop a unique corporate brand positioning statement and key messages to differentiate Noridian from its competitors and an employee value proposition that positions Noridian as an employer of choice.
The corporate brand positioning led to a new tagline, "Solutions that put people first." We developed a brand creed to inspire employees and created a new, fresh look for the company that was summarized in a brand style guide. This helpful guide outlines primary and secondary colors, logo and tagline use, graphic elements, photo options, and creative direction. Our team also produced a new website, marketing collateral, recruitment campaign, and internal signage.
RESULTS
Noridian launched its new brand internally in late 2018. The new brand instilled pride in employees and inspired them to look for ways to continually "put people first." The external launch helped Noridian's sales staff members better explain the company's unique value proposition.
Interested in a branding campaign for your company? Contact our professional services team today.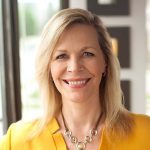 Kimberly Wold Janke
An expert at planning and executing successful integrated marketing communications campaigns, Kimberly has worked in the marketing and advertising industry for more than 20 years. She uses this marketing and advertising experience and her passion for results-driven communication to lead Flint Group marketing teams and educate and inspire at conferences and events. She is well-known among the industry for her work with Blue Cross Blue Shield of North Dakota (BCBSND), including the Bolder Shade of Blue campaign that helped lead BCBSND out of crisis and repair its brand reputation. Her work on this campaign helped earn Flint Group and BCBSND the 2014 Public Relations Society of America (PRSA) Silver Anvil Award.