Defining roles and responsibilities doesn't just help you find the right person for the job, it also improves employee experience and supports the efficiency of your organization. Flint Group saw an opportunity to set our employees up for success and provide clear direction for the roles they are playing within the organization. We put on a Professionalism in the Workplace Series for new hires who'd recently graduated college and our summer interns. The series covered topics such as determining SMART Goals, defining core values and prioritizing professional development.
Determining your SMART Goals:
"The trouble with not having a goal is that you can spend your life running up and down the field and never score" – Bill Copeland
How to make your goals achievable? Flint led a session on what SMART goals stand for – Specific, Measurable, Achievable, Relevant and Time Bound. Individuals in this session wrote their own SMART goals for the next six months to keep them motivated and supported.
Were they successful? Interns who participated were asked if they met their goals at the end of their internship.  For the most part, they said they achieved their goals and increased their productivity in the workplace.
Defining your values:
Values are things that we believe are important in the way we live and work.  Our personal values are a central part of who we are – and who we want to be. By becoming more aware of these important factors in your life, employees can use them as a guide and embrace company values as well.
Identifying and understanding personal values is a challenging but important exercise. Flint led an exercise that had participants narrow down their top 10 values and determine what is important to them. This exercise helps with increasing employee satisfaction, identifying problem areas and having time for self-reflection.
One participant reflected, "My core values include challenge, teamwork and compassion. Defining these values has helped me to recognize the kind of experience I want to gain from my internship. I have sought out challenges and been involved in many teams that have added to my learning experience."
Prioritizing your professional development:
Leading with authenticity and remaining true to yourself and others is one of our core values at Flint. To help encourage this in young professionals, we took the values the participants identified and asked them to answer questions on how these values could be applied to lead in an authentic way.
One participant said, "I have been able to grow professionally and improve my skill set as I finish my last semester of college. I prioritized my professional development by giving myself plenty of time to work on my weaknesses by attending professional development workshops, trainings and feedback sessions provided by my supervisor and team members."
Flint also highlighted the topic of self-confidence and the importance in being confident. When you're self-confident, you trust your own judgement and abilities and have a strong sense of self-worth and self-belief.​ We helped our young professionals understand that improving their confidence is also an aspect of professional development. It takes self-assurance to admit mistakes, continue learning and be willing to go the extra mile.
Setting employees up for success
Being proactive and having new professionals go to this type of training sets them, and your company, up for success.  With this training, Flint has helped set industry standards and a clear level of expectations. More importantly, our young professionals have found better employee experiences and been more productive.
If you are interested in a similar training for your company or want more insight on young professionals in the workplace, reach out. We can help.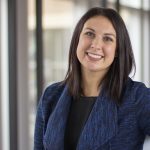 Julie Visger