Positive workplace culture attracts talent, drives engagement and, ultimately, impacts the bottom line. Workplace culture can be difficult to define, however. Everything, from the actions of company leadership to employment policies play a part in developing the structure of your workplace.
If your organization already has a positive culture, use it to your advantage. Think of it as a selling piece to attract and retain new employees, much like Discovery Benefits did.
Challenge
Discovery Benefits, a national Third-Party Administrator, approached us with a new challenge: employee recruitment. The strategic marketing teams at Flint Group knew there was one ideal way to tackle this project: with thorough research.
Solution
Through this research, our strategic marketing teams uncovered the number one appeal for working at Discovery Benefits: the work environment. The environment at Discovery Benefits was one in which employees thrived at a workplace they love. Plus, Discovery Benefits had been ranked by Business Insurance magazine as one of the Best Places to Work in Insurance for three years in a row – that had to count for something.
In order to reinforce this lively environment, a large redesign was undertaken to make the office look like people felt when they work there. Large displays were hung from ceilings, chalkboard walls in common spaces for fun collaboration, 3D wall type and statements were installed and all topped off by a big yellow slide that employees could use to take the fun route from the second floor down to the first. These things along with elements like ping pong tables and open lunch spaces made this office both a fun place to work and a hard-working tool in their recruitment efforts for new employees.
Flint Group also capitalized on corporate culture and produced recruiting collateral that highlighted Discovery Benefits' corporate culture through its employees. Print ads, online ads and brochures featured photos and testimonials of Discovery Benefits employees creating and enjoying their fun work environment. Pop-up display banners were also created for use at career fairs.
Results
Discovery Benefits' fun new recruiting materials became an accurate reflection of their welcoming work environment. It's still too early to know if it's boosted their applicant pool, but one thing is for certain – their recruiting materials now do justice to their nationally recognized workplace culture.
Interested in a recruitment campaign for your company? Contact our professional services team today.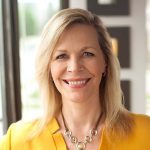 Kimberly Wold Janke
An expert at planning and executing successful integrated marketing communications campaigns, Kimberly has worked in the marketing and advertising industry for more than 20 years. She uses this marketing and advertising experience and her passion for results-driven communication to lead Flint Group marketing teams and educate and inspire at conferences and events. She is well-known among the industry for her work with Blue Cross Blue Shield of North Dakota (BCBSND), including the Bolder Shade of Blue campaign that helped lead BCBSND out of crisis and repair its brand reputation. Her work on this campaign helped earn Flint Group and BCBSND the 2014 Public Relations Society of America (PRSA) Silver Anvil Award.