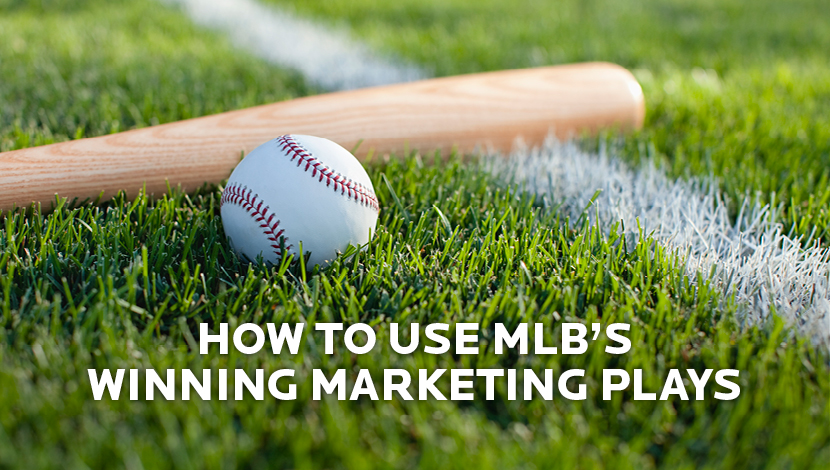 There are few aspects to American life more constant and reliable than professional baseball. It may rise and fall as our favorite teams win and lose, but it's always there, always asking for our attention through narratives that arc over decades, phenomenal individual achievements or the simple allure of a hot dog at the ballpark with family and friends.
But Major League Baseball isn't just 100-year-old ballparks. It's also ample Wi-Fi access in those ballparks. And it's not just hot dogs. It's also sausage poutine, ahi poke tacos and … grasshoppers? (Yup. Grasshoppers.) MLB has survived competition from other leagues, monumental shifts in culture and media, work stoppages, wars, and natural and manmade disasters, and yet the league and its teams continue to attract new and more fans, sponsors and supporters.
As a brand, Major League Baseball and the teams that comprise it offer some useful guidance on how to keep audiences engaged, tout strengths and keep people coming back through a promise of reliability and innovation. Here's how.
Tell a good story and spotlight your uniqueness.
Like a handy cut fastball, baseball's go-to pitch is always the story. Baseball has it all: characters, drama and comic relief, bolstered by nearly 130 years of prologue. You can probably name a few of baseball's significant plot points. The streaking hitter. Wacky mustaches. The home stand against bitter rivals. The sixth inning of a no-hitter in progress. The bloody sock. A squirrel on the scoreboard. They fill headlines, talk shows, promos, push notifications and thus fuel conversations around the water cooler and on social media.
Ask yourself:
Who are your characters? What big moments do you have coming up? What do you do for fun? What happens behind the scenes? Things like casual blog posts, a fun Instagram account or profiles of your employees on your website humanize your brand and position you as unique from your competition, and thus give people an opportunity to consider you over your competition.
Don't be afraid to modernize.
Other than occasional tweaks to rules and equipment standards, the game of baseball doesn't change much year to year. But off the field, of course, things change rapidly, and nowhere is that more apparent than in the media around baseball. And – just as it has had to do with innovations like newspapers, radio, magazines, television and cable – baseball adapts.
In 2000, MLB Commissioner Bug Selig directed the creation of Major League Baseball Advanced Media, which consolidated the websites for each team in the league, centralized ticketing operations and began developing new products. Notably, it gave birth to the wildly successful At Bat app, which belongs on every baseball fan's phone. It was a bold move that rankled cable companies and teams, but the consolidation of media assets created consistent branding and has paid off financially, creating a model for other pro leagues as they progressed on digital platforms.
Meanwhile, each individual team helms its own social media accounts and floods its feeds with highlights, video, shout-outs, memes, news, humor, GIFs and emoji. It looks and feels natural alongside other day-to-day chatter and complements the game well.
Ask yourself:
What are ways you can innovate your communications to reach new audiences? Can you reorganize your team to give more resources to content marketing? How can you freshen your logos, ad campaigns or branding to draw in new eyeballs? Revitalizing your brand identity takes a mix of creativity, bravery and careful planning, and it sometimes means bold operational steps like making new hires, shifting departmental resources or even moving to new locations. But they can pay off in the long run.
Think long term.
Major League Baseball has been around a long time and there's no reason to think it's going away any time soon. While that fact is unique to baseball, the mentality they've adopted isn't. Lots of organizations and companies must think in terms of sustained longevity and strategize for the future. It's a good problem to have, and it's good to think in terms of solving it.
Ask yourself:
What does your organization look like in five, 10 or 20 years, and what relationships, practices and messages should that organization be cultivating? What does your audience look like now? Will that change? If so, how will you change with it?
You might be a hardcore fan. You might only be related to one. Either way, it likely touches your life. Look at that relationship, whatever it is, and ask how it reaches you and what works about it. It's likely a strategy you can adapt to hit a home run (or at least a line drive double) with your own communications.
Curious how you can amp up your game plans? The MLB rabid fans – and other Flint marketing and communications experts – are right on deck to help you and your organization. Just contact us.