Resumes, portfolios, interviews…oh my! Whether you are a college student with a quickly approaching graduation date or an employee looking for a career change, today's job market can make it difficult to stand out.
Read on for tips from our very own human resources director, Danielle Woodard, administrative coordinator, Ashley Buerkley, and public relations director, Chris Hagen on what they expect to see from an applicant's resume, portfolio, LinkedIn, and more.
The big bad portfolio
Portfolios are all about balance. "Quality over quantity," the experts say. Your portfolio can be a hard copy or digital copy, and there are many free or low-cost online portfolio options available. If your portfolio lives online, our Flintsters suggest bringing a laptop or tablet to walk through during your interview. Keep these tips in mind when creating your portfolio:
Be simple and professional.
Include a few writing samples.
Be prepared to talk about all items in your portfolio, but most importantly, be ready to highlight the most important/relevant works. Your interviewer most likely won't have time to go through all of your pieces.
For digital portfolios, be sure that the URL is clear and professional (bit.ly links work, too).
According to Danielle, if applying for a graphic design position, we expect to see:
An online portfolio or a well-designed website
Projects that reflect the ability to work across different industries
Project descriptions showcased in a problem/solution scenario to demonstrate problem-solving ability and in-depth design rationale
A wide variety of work in different mediums, especially digital/online
Work that reflects software skills and strengths
A well-designed cover letter and resume (after all, they are applying for a design position)
A cover letter that expresses why they want to work for our company and how they would be an asset – it should clearly show they have done their research and know something about us
A minimum of 10 to 12 strong pieces of work
Their passion for design evident in the work
Resumes? Can't I just submit my LinkedIn profile?
The easy answer to this common misconception is no. Resumes are a vital piece of the job application process, and they differ from LinkedIn profiles. Although LinkedIn is handy for networking, resumes provide a formal, tailored summary of your qualifications and present a direct way to contact you. A good resume should highlight your experience, not provide an entire career history.
Keep these tips in mind when crafting your agency-specific resume:
Include all of the facts, tailored specifically to the position you're applying for
List your certifications, awards, honors, etc.
Keep it concise and easy to read
Use simple bullets with action verbs to express transferable skills
Make it eye-catching, especially if you are applying for a creative position
Don't be afraid to use color!
LinkedIn best practices
Maintaining an active presence on LinkedIn is more important than ever when it comes to networking and getting approached for new career opportunities. Fun fact: some of our recently hired Flintsters weren't actively looking for a change, but were recruited via LinkedIn.
Make sure to:
Use a professional head shot as your profile image.
Include all of your relevant experience.
Write a summary – this should feel authentic and can be written in first-person.
If you are a student, clearly state your expected graduation date.
Now that you've landed the interview…
Allow yourself a minute to happy dance (if that's your thing), then get back to work.
Prepare at least two questions to ask.
Do your research on the company.
Bring extra copies of your resume and/or portfolio.
Keep in mind that you are also interviewing the company – make sure it feels like a good fit.
Send a handwritten thank-you note afterward.
Be yourself! Relax and remember that many interviews follow a conversational format.
Don't get discouraged
Stay positive during the job-hunting process. It requires a lot of time and effort for our hiring team to find the right applicants. According to our human resources department, positions can take approximately two to three months to fill. Following up may be warranted if it has been a few weeks since your interview, but be sure not to inquire more than once.
Need help with recruitment for your company? Reach out to us!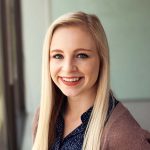 Libby Bahr
Libby joined Flint Group as a social media and public relations intern in 2018. She has experience in content creation, social media implementation and copywriting for clients across various industries, including professional services, manufacturing and retail. She was promoted to join the social media team full-time upon her graduation from NDSU in 2020. Through her range of experience, Libby has developed expertise in social media tactics and copywriting. She plays a key part in implementing and coordinating Flint Group's social media services.