Social media is often perceived as the "free" option to promote anything and everything. While creating an account is technically free, the time it takes your social media team to analyze trends and write, design and develop content isn't.
Organic social media refers to the content on your pages that is not a paid advertisement. For most organizations, the best use of social media is to connect with your audience, spark interest in your company and/or generate brand awareness.
(We further explained how organic and paid social media fit together in this blog – check it out!)
Planning content strategically is key to accomplishing these business goals on social media.
So. What is the golden rule, you ask?
Promoting everything = promoting nothing.
You've probably heard the saying "if everything is urgent, nothing is urgent." The same philosophy applies here! Instead, prioritize posting about what your audience wants to know.
Social media managers are often pressured to promote objectives from every department of their business. There is nothing inherently wrong with this, but it's important to find balance and understand that social media is not a platform to post about anything and everything.
Engagement will drop off and efforts will become ineffective if priorities are not reigned in.
Tip: Shift your thinking to always put yourself in your audience's shoes. What do they want to see?
If you're running a casino, your audience likely does want to know about your promotions – that's what gets them excited and in the door. If you're a small retailer, your audience wants to know what inventory looks like. What's in stock? When will new shipments arrive? Are store hours changing during the holidays?
In the corporate sector, priorities look a little different. Let's say you are promoting a webinar that streams in two weeks. Instead of adding several posts on top of the content you already have planned, try reducing the volume of posts and boosting to a key audience.
Typically, boosting one post for as little as $50 will go further than bombarding your audience with several updates.
Things to consider:
Posting more than once per day on platforms like Facebook and Instagram is typically a no-no. Hubspot found that pages with >10,000 followers experienced a 50% drop in engagement per post if they posted more than once per day.
Overtly promotional posts earn lower engagements on average than any other type of organic content. Best practices include keeping under 20% of your overall social content promotional.
Informational ≠ promotional. The difference is whether your audience is interested in the content you are presenting. Not sure? A great rule of thumb is to track engagement rate!
The purpose of organic social media is not to drive conversions. This is where paid advertising comes into play. It can be tricky to keep these objectives straight, but you'll get more out of your digital presence if you think of organic social as a way to connect and grow your audience, not solely to generate sales.
Interested in cultivating a loyal community on social media? Contact us today!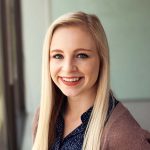 Libby Bahr
Libby joined Flint Group as a social media and public relations intern in 2018. She has experience in content creation, social media implementation and copywriting for clients across various industries, including professional services, manufacturing and retail. She was promoted to join the social media team full-time upon her graduation from NDSU in 2020. Through her range of experience, Libby has developed expertise in social media tactics and copywriting. She plays a key part in implementing and coordinating Flint Group's social media services.