Integrated marketing plan helps welcome Minnesota teachers back to the classroom
The back-to-school rush is in full force in Minnesota. To keep family and student enthusiasm high, Education Minnesota is launching a campaign ahead of the school year. They called us to help spread their message across the state.
To reach their vast target audience, we suggested an integrated marketing campaign to strategically place consistent messages across a range of digital and social media platforms.
Meet the Audience
When designing the campaign, we of course need to keep our audience in mind. Who are they? Where are they? What do they do? What is their motivation?
The audience for this campaign is 25 to 54-year-old parents living in Minnesota. Although their backgrounds, beliefs, and geographies are diverse, the audience wants the same thing: a great future for their children.
The Campaign
All great campaigns start with a concept. This one centered on tips and motivational statements from teachers.
With our audience in sight, we recommended using fun, engaging content to help families prepare for the new school year. We chose teachers passionate about work to deliver their tips for academic success.  Flint's creative team got to work mocking up several storylines with a call-to-action to visit the landing page for even more tips for a great school year.
Serve and Be Seen
To cover the entire state with the goal of feeling good about the new school year and teachers, we went to work on a media strategy the crossed multiple social media platforms but stayed on message.
Our designers tailored each ad to adopt the individual platforms. The targeted individual saw the message and had the ability to interact with Education Minnesota, no matter where or how the ad was served.
We didn't stop there. We know not everyone is social, but they are online. We added a 15-second pre-roll video and Google display ads to the campaign.
We also know people love their music. Our audio ads were served under a static campaign ad tile.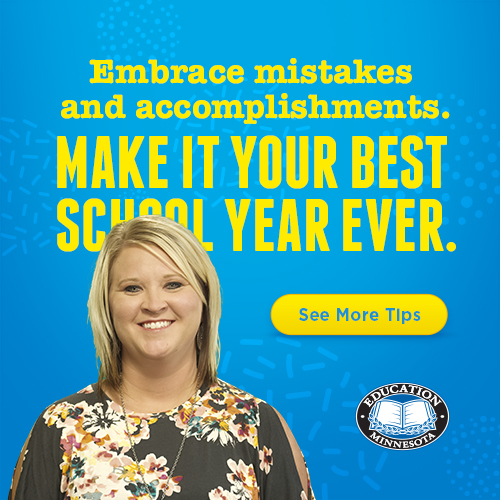 Where are we going?
Once we reached our target audience on the devices and platforms they love most, we wanted to keep the conversation going. Each ad invited parents to receive tips for a successful year by visiting a special web page.
Our web designers created a unique landing page for the campaign. On the home page, we placed ten tips from Minnesota teachers. Each tip was formatted to allow the user to click-to-tweet and continue the conversation with their followers.
The result
Parents across Minnesota were served ads with usable content to help their kids have a great school year. This content made them excited to meet their teachers and be back in public schools,
The campaign is in progress as of the writing of this post, so key performance indicators are not yet available. However, analytics for integrated marketing campaigns are available and show the cross-platform approach boosts engagement for each individual platform at a higher rate than marketing on a singular platform alone.
To follow the campaign visit https://believeinwemn.com/