For industries that have little to no differentiation in the product or service they provide, it is critical to invest in creating a seamless and connected experience. Think about your bank. This is the hub in which your life somewhat revolves around to maintain your lifestyle. You may have a checking and savings account, loan or mortgage, and investments.
Think of the ways you access and interact with your bank. It should be quick, seamless and never interrupt your daily life – just coexist to support it, right? I think so! It should adapt to consumer behavior and trends. One app, all integrated and perhaps even connect and bring together your other accounts and assets from other institutions and organizations. Your 401k balance, savings, non-qualified investment funds, checking, card management services, P2P payments, bill pay, mortgage – all in one dashboard view to provide you with a holistic view of your financial health and access to all accounts. Never a lag and never an interruption – because we are in fact living in a world of NOW and instant gratification.
Often, I find organizations implement what is easy or the path of lesser budget and least resistance. They check the box but fail to realize the importance and value of the experience even though 68% of companies say they compete on the basis of customer experience.
Related: Service v. experience: Which is the shining star?
Here's how to transcend from a box-checker to transforming brand experience:
1. Offer in-app experiences vs. forcing a separate app download.
2. Create an intuitive and on-brand user interface using an API to surface information vs. forcing an iFrame to bring in information and utility (calculators).
3. Use data to personalize the experience whenever possible. More than half (52%) of consumers are likely to switch brands if communications are not personalized to them.
4. If we know they are a customer (and we know the products to cross-sell or increase utilization), leverage that data to make the experience more relevant – add value.
Consumers expect more. While the financial industry and others have legacy systems and back-office processes that are in need of transformation, we must innovate and make investments in the experience to keep pace with demands and expectations. Think 'Amazon-like' experiences. If you don't, your competitors will swallow you whole.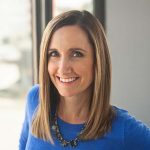 Andrea Morrow
With over 20 years of experience, Andrea is known for developing marketing communication plans that work hard for clients and exceed goals. Her strategic direction will find solutions that tell a brand story and gain business results across platforms to ensure a seamless brand experience for all audiences. Andrea thrives by staying on top of details, analyzing results and pushing for growth both with her clients and her internal teams. Known for her positive attitude and thinking on her toes, Andrea has lent her expertise to student groups and business groups such as the FMWF Chamber. Andrea's high-energy style is put to good use at home with her husband and their three kids. Luckily, she finds time to enjoy lake life during the summer.