Agency life brings some of the coolest professional experience the communication industry can offer. While Flintsters thrive on a challenge, the start of the COVID-19 pandemic threw us one heck of a curveball, and it's still not over. We never want our clients to face a crisis, but I'd be lying if I said we didn't get a rush from helping clients navigate tricky situations.
I don't think anyone in the world, and certainly not our organization, was prepared for March 2020 when all of our clients went into crisis mode at varying levels. Some were trying to maintain their favorable perception in the public eye, others were trying to effectively communicate new work environments or requirements… all while taking legal and safety guidance into account in unprecedented times.
The Flint PR team brought extensive experience in crisis communication to the pandemic, but we wanted to take our expertise to the next level. Recently, some of my team members and I became certified by the Public Relations Society of America in crisis communication.
Why? Because preparation when navigating a crisis is key.
Here are some of the most important takeaways from the certification process:
A communication crisis always begins as a business crisis
Regardless of how many times we hear the term "PR nightmare," the fact of the matter is all communication crises begin as a business crisis. PR pros are dedicated to building and maintaining trust with key stakeholders. When a crisis occurs, it's our responsibility to respond honestly and empathetically to ensure audience expectations are met. Mistakes happen; our goal is to be forthcoming with those errors and offer a solution to avoid future mistakes.
This also means every communication solution should be tied to a business solution, meaning your organization has to show steps taken to prevent the crisis from happening again. It also reinforces the notion that there should be a communication component of your senior leadership team to speak public perception when dealing with fluid situations.
Think through the lens of leadership. Solve the business problem. Reduce risk. Drive results.
Related: Learn the importance of writing with empathy during tough times.
Prepare as much as you can, before there is even an indication of a crisis
The best time to start preparing for a crisis is long before you're ever faced with a difficult situation. Start by creating an issue tracking document. Which threats are most likely to occur? Which threats would have the biggest impact on your organization? Who would be impacted by each threat?
From there, run crisis simulations to be sure you're prepared. We recommend following the RACI method. Clearly lay out:
Who is responsible?
Who is accountable?
Who should be consulted?
Who should be informed?
As your crisis simulations develop, prepare holding statements for each situation for the media, social media and key stakeholders. The more messaging that can be developed when you have ample time and a clear mind that isn't clouded by stress, the more likely your organization is to strategically react to a challenge appropriately. Prepare your spokespeople with a media training and discuss best practices when conducting interviews in a crisis.
Crisis management = management of choice
The most challenging aspect of crisis communication, in my opinion, is making the right choices in high-pressure situations. Consider who is your voice of reason; the person who can see the forest through the trees. Make sure they're part of your inner circle and have a voice in your organization's war room.
I like to think of public relations as a bank account. When you and your organization is positively impacting its audience, it's important to amplify your efforts to make positive deposits into the public perception account. That way, if your organization is ever faced with a crisis, you have a high balance to make a couple withdrawals.
As always, you don't have to go it alone. Our PR team is here to help you with your most difficult situations. Drop us a line!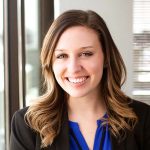 Madison Quamme
As the public relations manager, Madison leverages a strategic approach as she plans tactics to effectively communicate with audiences across various channels. Driven by relationship cultivation, Madison serves as a trusted partner to clients, as they nurture connections with their stakeholders. She brings passion and experience in strategic planning, internal and external corporate communications, public positioning and reputation management. Prior to joining Flint, Madison served as an account manager at Ironclad Marketing, a public relations and marketing firm focused in heavy equipment. She was responsible for providing strategic insight for clients as well as quarterbacking and executing annual marketing plans. Additionally, she brings experience in the civil engineering and healthcare industries.