In our previous blog, we introduced the ABCs of Artificial Intelligence (AI) and shared a handy glossary to help you navigate the jargon-saturated world of machine learning, neural networks and more. Today, we're going one step further to discuss how we at Flint Group have been utilizing AI for years and how we have laid the foundation for responsible AI usage in our work. 
Our Journey With AI: Harnessing Power, Prioritizing Responsibility
Let's dispel a myth right away: AI isn't some futuristic concept we're still waiting on – it's here and it's been here. As a marketing communications agency, we've been harnessing the power of AI tools that are embedded in everyday applications for years. This spans a variety of functionalities in platforms like Google, programmatic ads, Meltwater for media monitoring, video editing tools, Sprout Social for social media management and many automated marketing solutions. 
The ongoing advances in AI technology are adding newer, more robust functionalities into these tools. As a forward-looking organization, Flint Group is always scouting for emerging AI capabilities that can further refine our services, create efficiencies and add value for our clients.  
The Importance of Responsible AI Usage
However, with great power comes great responsibility. While we continue to adopt and adapt to AI, it's crucial to approach its usage with care, considering vital factors such as privacy, ethics, bias and human involvement. We have developed and follow Ethical Guidelines to govern our AI-related activities. 
Flint Group's AI Ethical Usage Guidelines
Here's how we are ensuring our integration of AI is not just efficient but also ethical: 
Embrace Transparency
We foster open communication with our clients about our AI strategies.

 
Safeguard Proprietary Information
We provide protocol training and ensure quality control checks are in place to avoid the use of client-specific information and data in our AI models.

 
Be Wary of Source Verification
Prior to integrating new AI tools, we consult with our IT department to verify their authenticity.

 
Navigate Copyrights Carefully
We utilize trusted image databases like Adobe Stock and employ plagiarism checkers to ensure content originality.

1

We also never use AI-generated images or content directly from a generative AI platform. Our creative team uses images and copy only as a starting point, for idea starters and inspiration, and evolves the images and content beyond initial output.

 
Double Down on Data Security
We opt for AI tools known for robust data privacy measures.

 
Human Oversight Is Key
Our quality control review process for generative AI incorporates human oversight, helping prevent issues like plagiarism and copyright infringement.

 
Monitor AI Performance
Routine audits and performance tracking help us continuously improve our AI approaches.

 
Foster Open Communication
We encourage open dialogues about AI-related concerns within our teams.

 
Stay Compliant
Understanding data protection laws is an integral part of our daily work.

 
Embrace Continuous Learning
As AI continues to evolve, so do we.

 
AI represents a landscape teeming with opportunities and challenges. By using AI responsibly, not only can we significantly improve efficiencies and offer better services, but we can also make a positive impact on the industry at large. 
Upcoming Series: A Deep Dive Into Practical AI Applications
This article is part of an ongoing series that explores various facets of AI in our daily operations – from understanding essential terms to exploring its role in media optimization, video production, SEO planning and more. Our goal is to offer practical insights into how we're integrating AI responsibly and effectively in our work.  
The ABCs of AI: A Handy Glossary Breaking Down Artificial Intelligence Jargon 
I Used ChatGPT to Write Email Subject Lines: Here's What I Found 
You Need To Personalize Your Email Marketing. Here Are 6 Easy Ways To Do It. 
Revolutionizing Creativity: Exploring the Power of Generative Fill AI 
From Algorithms to Engagement: Generative AI's Impact on Public Relations and Social Media Efficiency
Stay tuned for more in-depth coverage. 
Footnotes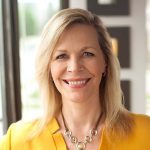 Kimberly Wold Janke
An expert at planning and executing successful integrated marketing communications campaigns, Kimberly has worked in the marketing and advertising industry for more than 20 years. She uses this marketing and advertising experience and her passion for results-driven communication to lead Flint Group marketing teams and educate and inspire at conferences and events. She is well-known among the industry for her work with Blue Cross Blue Shield of North Dakota (BCBSND), including the Bolder Shade of Blue campaign that helped lead BCBSND out of crisis and repair its brand reputation. Her work on this campaign helped earn Flint Group and BCBSND the 2014 Public Relations Society of America (PRSA) Silver Anvil Award.