"This 'stuff?' Oh, okay. I see. You think this has nothing to do with you."
In her famous "cerulean speech" from The Devil Wears Prada, Miranda Priestly schools Andy Sachs about how cerulean (a dark sky blue with a hint of turquoise) started with designers and eventually made its way onto Andy (she's wearing a blue sweater in the scene) as a trendy color.
If fashion isn't your thing, maybe your dad is like mine and told you he "knows a guy," and that's where you take your car to get fixed, forever. Or, your friend told you they love their job and that you should apply to work there.
Andy was influenced. You were influenced. Designers, dads, and employees were the influencers/ambassadors.
Influencer marketing and brand ambassadors aren't a new concept. In 1765, Josiah Wedgewood made a tea set for Queen Charlotte. He called himself the "potter to her Majesty," making Wedgewood a luxury brand because the queen had it and making himself a marketing pioneer. And, even before that, royalty influenced how people acted, what they purchased, etc., all the way back to Medieval times. Today, ambassadors are increasingly influential and necessary for brands.
I use influencers and brand ambassadors interchangeably because they both have the same goal for brands: To influence people to act a certain way, buy something, do something—take action. I'm focusing on a specific type of ambassadors—employee ambassadors or "employee advocates"—in this blog.
Related: Brand Loyalists > influencers: Here's how to find them.
Who should use employee ambassadors and why?
I can't think of a business that wouldn't benefit from an ambassador program. Consumers trust other people (ambassadors) more than brands. A recent online influencer survey of 18-to-34- year-olds by Edelman found that 63% trust what influencers say about a brand more than what the brand says about itself. The most trusted spokespeople for a brand message are experts and company employees—authentic and relatable voices.
Employee ambassadors/advocates can not only recommend the products/services sold by a business but also increase brand exposure, all while embodying the company's best interests.
Graphic source: Sprout Social
Employee ambassadors can also help boost hiring and leads. Brand messages are shared 24X more when posted by employees versus the business. Employee content gets higher engagement (likes, shares, comments, etc.), and employee referrals have a 40% conversion rate. For more stats, check out this infographic from our friends at Sprout Social.
Today especially, people question how much they can trust a brand—70% of people say trust is more important today than in the past, according to the Edelman Brand Trust in 2020 report. And then there's the Great Resignation and hiring/retention challenges. Ambassador programs can help attract and retain employees.
Our experience: Flint Ambassadors
We started a Flint Ambassador program in 2020, right before the COVID-19 pandemic started. The program became an essential tool for staying connected and engaged as we worked remotely—all while promoting the agency's services and hiring new employees.
Ambassadors can reshare brand content or make their own original social posts that the brand can choose to share, too. Our ambassadors share frequently to their Instagram Stories, in addition to LinkedIn posts, tweets, and the occasional Facebook post.
Flint's ~20 ambassadors contributed to us garnering 66K impressions, 6,500 engagements and 3,200 link clicks in 2021.
Ambassadors can reshare posts from your brand and add their own insight to humanize the post.
Ambassadors can tag your business in their posts, and you might choose to reshare them or repurpose the content in some other way.
Use ambassadors if you want to:
Find potential employees
Attract employees
Increase employee engagement
Generate leads that are more likely to close
Attract new business
Increase brand trust/brand reputation with consumers and prospective employees
Increase brand awareness
Maintain control over brand messaging
Establish thought leadership
Related: Corporate vs. Personal Thought Leadership
Ambassador messages go further than when shared by the brand, and they have a more authentic feel.
How do businesses start an employee ambassador program?
Once you recognize you need an ambassador program, you'll decide how you want to run it, who will participate, and how you'll measure success. Tools like Bambu by Sprout Social simplify ambassador programs because they allow content population, sample posts for participants, analytics, communication via newsletters and alerts, and reporting on overall engagement among ambassadors.
Ambassador programs can also be run through a platform like Microsoft Teams, using posts in the platform to share information and content with ambassadors.
For our Flint Ambassador program, we started with Teams, and we'll be introducing Bambu soon, too. We meet monthly to share updates, praise posts, review best practices, and brainstorm ideas for ambassador content. We incentivize participation with gift card drawings for ambassadors who submit blogs, and we have special coffee mugs for our group. Our senior leadership supports the program (imperative for success), and we have several of them acting as ambassadors.
A "playbook" or guidelines are smart to ensure your employee ambassadors are representing the business properly. Remember: You still want their authentic voice on social media. Strict guidelines can stifle authenticity and creativity. Trust is essential for a successful ambassador program.
Choose employees who already boost your business—the happy employees who are excited to work for your company. They may or may not have social media experience. Ambassador programs can be a less intimidating way for people to step a toe in social media with company support.
Not sure where to start? Hey, we know a someone! If you're ready to use your employees as the ambassadors they are, we can help launch and manage your employee ambassador program.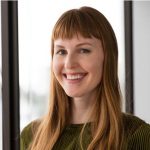 Anna Larson
Anna is a social media and content strategist and PR/social manager who creates community online and offline. Her 15+ years of experience helps organizations deliver engaging content on social media. She knows that adopting a customer-centric mindset is at the core of developing a strong brand and telling an impactful story. Anna provides both the detailed and big-picture thinking for clients. A natural born problem-solver and teacher, she never stops seeking out new ideas and inspiration. Her greatest passion is leading with empathy and helping her team grow and feel valued. She loves Brené Brown quotes and a good heart-to-heart. At the end of the day, what matters most to her is knowing she helped make a difference.