2021 buzz words defined: What is thought leadership, anyway?
Raise your hand if the term 'thought leadership' is on your company's 2021 strategic plan. You too? You're not alone. Thought leadership is one of the most popular, and maybe most abstract, marketing concepts in recent memory.
Some companies view thought leadership as the organization positioning itself as the expert, others place more focus on employees to be the face of their thought leadership program. You know what? Neither option is wrong, and in fact the two solutions work really well in tandem. Here are some things to keep in mind.
Goals
What are your goals with your thought leadership program? Are you hoping to showcase your stellar sales and services teams? Or are you looking to position your organization as a resource for industry professionals? Your goals will help determine if a corporate or personal thought leadership program is more helpful in reaching your audience.
Regardless of ambitions, it's important to remember thought leadership is rooted in authority and affinity. Some factors to consider are:
Consistency – Thought leadership takes effort – you have to share content consistently with the audience. This can come in the form of media interviews, blogs, industry presentations and social media content.
Turnover – Do the people you view as thought leaders in your organization turn over quickly? If so, it might be best to put most efforts into a corporate thought leadership program that won't see as much change.
Content
Thought leadership is centered around useful, relevant and timely content that typically comes from all aspects of your business. Like all marketing efforts that follow the PESO model, content should be at the center of your strategy. While marketing efforts can create or refine content, the information has to flow from the entire organization.
Thought leadership is meant to position your organization or leadership as experts. What insight or strategy can you offer your audience that sets you apart from others in the industry? Sometimes it might feel like you're showing your hand to your competitors, but by offering technical expertise, you showcase your ability to add value to their businesses.
Buy In
Facilitating a thought leadership program takes more than just one person, or even the marketing team. If you choose to include a personal thought leadership component, can you rely on your thought leaders to share consistently? Social media statistics show a post shared from a personal account as opposed to a corporate account will perform better. Empower your thought leaders to write content and share it through blogs and social media, speak at industry events such a conferences or tradeshows, or discuss concepts with journalists.
Looking to coordinate a thought leadership program at your organization? Drop us a line – we're happy to help!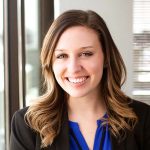 Madison Quamme
As the public relations manager, Madison leverages a strategic approach as she plans tactics to effectively communicate with audiences across various channels. Driven by relationship cultivation, Madison serves as a trusted partner to clients, as they nurture connections with their stakeholders. She brings passion and experience in strategic planning, internal and external corporate communications, public positioning and reputation management. Prior to joining Flint, Madison served as an account manager at Ironclad Marketing, a public relations and marketing firm focused in heavy equipment. She was responsible for providing strategic insight for clients as well as quarterbacking and executing annual marketing plans. Additionally, she brings experience in the civil engineering and healthcare industries.