Our audiences receive hundreds of messages every day. This, along with the instant gratification the digital era provides us, has greatly reduced our attentions spans and focus.
In our industry, PR pros – along with other disciplines and specialties – are trying to encourage a desired response from our audiences. We're trying to persuade others to invest in our cause, join our movement or become part of a product's family. We want our audience to be a part of our mission. To do this, we use persuasion! Did you know that persuasion can be boiled down to two key components? Yep, it's really that simple!
Authority
One of the key components of persuasion stems from one's authority to speak on a specific topic. The audience must believe the messenger is a reliable source. Furthermore, projecting confidence and poise invites the audience to trust the spokesperson and believe in their message.
In addition, the spokesperson must possess a cool, calm and collected demeanor throughout the message delivery. The fluidity at which the message is delivered is also important, as fluidity depicts mastery of the topic. This energy and presence provide an enhanced layer of authority. It also portrays a sense of grounding for the spokesperson.
Affinity
The other component of persuasion is affinity. It's important that your audience likes your spokesperson! While some of this is inherent, having an open, emotive demeanor can help build rapport with the audience. Also, including a human element to your message and having a genuine connection with the audience allows your communication to be not only heard but understood and empathized with.
Additionally, authenticity can help bolster your audience's affinity toward your spokesperson. Is your spokesperson the same person in and out of the public eye? While it's completely acceptable for a public spokesperson to want to put their best foot forward, as a PR pro, you have to be sure they're turning up the volume on their personality as opposed to changing the channel on who they are as a person.
Another key piece of affinity is having an effective storyteller. Storytelling is one of the most powerful and captivating forms of communication. Having a compelling story that your audience can relate to encourages alignment between your audience and your organization's goals.
Tips and tricks
Below are a few quick ideas to help with your spokesperson's persuasion!
Be deliberate and to-the-point with your messages.
An impactful message is comprised of two key components: content and delivery.

Visual aids can also be a useful addition!

What is your message trying to convey? Make sure you know the answer to this for the most effective solution!
Tell a story! It will help your audience connect to your mission.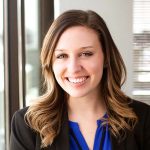 Madison Quamme
As the public relations manager, Madison leverages a strategic approach as she plans tactics to effectively communicate with audiences across various channels. Driven by relationship cultivation, Madison serves as a trusted partner to clients, as they nurture connections with their stakeholders. She brings passion and experience in strategic planning, internal and external corporate communications, public positioning and reputation management. Prior to joining Flint, Madison served as an account manager at Ironclad Marketing, a public relations and marketing firm focused in heavy equipment. She was responsible for providing strategic insight for clients as well as quarterbacking and executing annual marketing plans. Additionally, she brings experience in the civil engineering and healthcare industries.