Cat TikTok, Health TikTok, Nun TikTok (it's real and it's FASCINATING!) – I fall down the rabbit hole and 10 minutes turns into an hour. Did I buy THE TIKTOK LEGGINGS? Yes. Did I try THE TIKTOK SALMON BOWL? Also, yes. TikTok itself is sort of an influencer. It's the place we go to hop on a trend, try a new product and stay in the know. And, it's the perfect place for businesses to reach new, younger audiences and learn to loosen up a little.
TikTok for Business allows brands to show their creative side, try trends and be more authentic. We know in marketing that authenticity builds trust. As I like to say, #LetsGetReal. TikTok forces brands to produce a different kind of content that's a little less polished, a lot more interesting and way more in tune with the "now."
With more than 1 billion global monthly active users, TikTok is the sixth largest social media platform at time of publishing.
TikTok for Business is:
A high investment in time and effort to create platform-appropriate content:

A minimum best practice is posting one video per day for your business — at least 30/month. Consistency and daily posting are crucial to maintaining and growing your audience.

Different than most other social platforms because it requires a lot of posting.
A challenge due to the algorithm and changing trends.
A challenge because businesses have fewer creative options than creators.
Who's on TikTok?
TikTok users are largely Gen Z and millennials, with age distribution growing older as people become more familiar with the platform. We see this happen whenever a new platform is introduced – it gradually makes its way to older users.
What can brands post on TikTok?
TikTok is a short-form video platform.
Feed posts can be up to 10 minutes long. 1 in 4 top-performing videos have a duration between 21 and 34 seconds.
Ads are 5-60 seconds long and appear in feeds. Ads include a video, display image, brand name and text. When done right, they mimic a regular TikTok video and don't feel like an ad.
Spark Ads are TikTok boosts. Brands can boost an organic video much like you would on Facebook. TikTok has other ways for brands to advertise – check them out here!
Trend-driven
Remember how I said TikTok itself is sort of an influencer? That's because it's primarily driven by trends. People and brands hop on trends quickly to stay relevant. The cool thing about TikTok is there's a TikTok world for everyone – it can be incredibly niche, and trends can be applied in so many ways.
Related: Learn more about TikTok's algorithm and how to crack the code.
General tips for applying trends to your brand:
Look up trending sounds that fit your brand's niche.
Use a sound that's 7 seconds long with text on the screen that will take longer than 7 seconds to read – this increases views.
TikTok is a sounds-on environment, so adding audio significantly increases your impressions.
Related to trends: Use TikTok hooks
TikTok hooks are the beginning of a video that draw in your audience.
Think: Our membership is a game-changer; Here are 3 signs if you need a break; What most people don't realize; You need to STOP doing…; Why is nobody talking about X.
Shoot high resolution and full screen
Videos with a resolution of 720p or higher see an average of 5.4% more in impressions.
Videos that fill the entire screen see a 60.5% increase in impressions.
Vertical format is essential. You'll look like you don't know what you're doing if you try to post a horizontal video. This also makes it easy to reuse TikToks on Instagram by making them into Reels.
Brands can use TikTok to:
Build brand trust and transparency
— Share your brand's character, beliefs and mission
— Reveal behind-the-scenes looks at your business
— Invite users to participate in your business journey
Create connections
— Build connections in the comment sections
— Explore hashtag (#) communities
— Scroll through your For You Page for inspiration
Test new ideas and content
— What makes your business unique?
— How does your business fit into your customers' lives?
Use influencers to push your messages further
— People connect with other people more easily than people connect with brands.
— People trust other people and their recommendations – how many things have you or someone you know purchased something because you saw it on TikTok?
— It's one way for a business to enter the TikTok world without the pressure of creating your own content and building an audience. It allows a brand to dip their toe in and start earning awareness and recognition.
TikTok is a magical social media app where there's a spot for every brand if they're willing to try new things and get creative. Not sure how to start? We're here for you and your biz, and we can share the best Cat TikTok videos while we're at it. 😉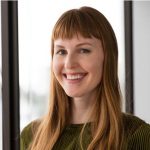 Anna Larson
Anna is a social media and content strategist and PR/social manager who creates community online and offline. Her 15+ years of experience helps organizations deliver engaging content on social media. She knows that adopting a customer-centric mindset is at the core of developing a strong brand and telling an impactful story. Anna provides both the detailed and big-picture thinking for clients. A natural born problem-solver and teacher, she never stops seeking out new ideas and inspiration. Her greatest passion is leading with empathy and helping her team grow and feel valued. She loves Brené Brown quotes and a good heart-to-heart. At the end of the day, what matters most to her is knowing she helped make a difference.