The demands placed on brands far extend beyond a quality product and a top-notch experience. In fact, it's reported that 68% of consumers expect their brands to be clear about their values. In a world driven by countless causes, corporate social responsibility needs to be strategic, thoughtful, and align not only with company values, but also company actions. Corporate social responsibility (CSR) is really about an organization holding itself accountable to the values they've put in place. It requires careful consideration and planning around your community-building efforts, so you're not only talking the talk, but you're also walking the walk.
The Power of Planning Ahead
Corporate social responsibility isn't something you can take lightly or make decisions about on the fly, especially as it becomes an increasingly important topic for companies, consumers and investors. By planning ahead and being proactive, companies are able to align their business goals and values with their social giving in a strategic and thoughtful way that is relevant to their stakeholders. This helps to build trust and credibility with customers, employees and investors, while creating a positive brand image.
When it comes to CSR, it is important for companies to ensure that their social giving initiatives align with their business values. This means that companies should consider their core values, mission and vision when developing their CSR strategy. By doing so, companies can ensure that their social giving initiatives are authentic and meaningful, and that they resonate with their stakeholders. In addition, strategic CSR can help companies to identify potential opportunities and risks related to public stances on social and environmental issues. By taking a proactive approach, companies can mitigate risks, recognize potential opposing viewpoints and capitalize on opportunities to make a positive impact on society.
For example, if a company values female empowerment, they may choose to support organizations that promote, develop and mentor women. Alternatively, if a company values environmental sustainability, they may choose to focus their social giving initiatives on initiatives that promote renewable energy or reduce waste. You can also leverage professional organizations for the betterment of the industry.
Pitfalls of Lack of Proactivity
Not planning ahead for CSR can lead to several potential pitfalls. Today's causes move fast, and if you're not prepared to respond quickly and with support from senior leadership, you can miss the opportunity to engage in a meaningful conversation with your stakeholders. Additionally, if you're not prepared and act without planning, your brand can be viewed as supporting every issue or cause, which can dilute your message and brand equity.
Companies that find themselves unprepared to respond to societal issues can damage their reputation and negatively impact their bottom line. Organizations that miss opportunities to make a positive impact also miss a chance to build brand loyalty and goodwill with their likeminded stakeholders. In contrast, if a company's social giving initiatives do not align with their business values, they may be seen as inauthentic or insincere. This can lead to a lack of trust from stakeholders and can damage the company's reputation and brand equity.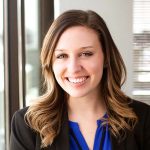 Madison Quamme
As the public relations manager, Madison leverages a strategic approach as she plans tactics to effectively communicate with audiences across various channels. Driven by relationship cultivation, Madison serves as a trusted partner to clients, as they nurture connections with their stakeholders. She brings passion and experience in strategic planning, internal and external corporate communications, public positioning and reputation management. Prior to joining Flint, Madison served as an account manager at Ironclad Marketing, a public relations and marketing firm focused in heavy equipment. She was responsible for providing strategic insight for clients as well as quarterbacking and executing annual marketing plans. Additionally, she brings experience in the civil engineering and healthcare industries.