If you're on the recruiting side you know this all too well: a strong job market has its challenges.
In North Dakota and communities across the country, businesses are struggling to attract and keep employees with the skills they need. And they're finding that traditional strategies, such as wages and benefits, are only part of the picture.
Defining what makes your company appealing to employees is critical. In fact, top employer brands have higher retention rates, lower turnover rates and lower cost-per-hire, and they fill positions in less time – benefits that positively impact the bottom line.
Employment branding is the process of finding the intersection between what your employees value and what you uniquely do well. We've previously broken this down on our blog. More specifically, at Flint Group we use a 5-step process to help clients stand out from the competition.
Flint Group's step-by-step approach to employment branding
Define the brand.
We start by developing insights into your work environment, including culture, mission and values, the employee experience, key talent drivers, and management practices.
Next, we conduct market research on what employees and candidates value.
Finally, we identify what your company can "own" to become an employer of choice.
Develop the employee value proposition.
Simply put, your value proposition represents why employees feel vested in your organization. It encompasses tangible and intangible benefits, the environment, and opportunities you promise employees in exchange for their time, productivity and commitment.
Before launching, we recommend testing to ensure messaging is on target.
Create the brand identity.
The employment brand identity is the look, feel and voice of your company as an employer. The employment brand identity should align with your corporate brand.
Communicate the message using the right channels.
During this phase, we create and implement a communication plan to share your company's employment brand throughout the talent lifecycle, from prospective employment to retirement.
Measure and adapt.
To ensure ongoing success with your employer brand, we help you identify, monitor and track key performance indicators.
We value the opportunity to help North Dakota and other communities compete for the talent they need to succeed. Please contact us to discuss how employment branding can work for your organization.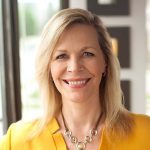 Kimberly Wold Janke
An expert at planning and executing successful integrated marketing communications campaigns, Kimberly has worked in the marketing and advertising industry for more than 20 years. She uses this marketing and advertising experience and her passion for results-driven communication to lead Flint Group marketing teams and educate and inspire at conferences and events. She is well-known among the industry for her work with Blue Cross Blue Shield of North Dakota (BCBSND), including the Bolder Shade of Blue campaign that helped lead BCBSND out of crisis and repair its brand reputation. Her work on this campaign helped earn Flint Group and BCBSND the 2014 Public Relations Society of America (PRSA) Silver Anvil Award.