Recently, Amazon provoked a frenzy in the business world by encouraging cities across the U.S. to vie for the site of their second headquarters. And vie they did, rushing to create lucrative tax incentives and elaborate pitches to woo the online retailer.
As high profile as this case was, it wasn't unusual. Across the country, every day, businesses face the same kind of a decision, albeit at a smaller scale: Where should we set up shop?
A lot of factors go into such decisions. Many have to do with the bottom line, like the tax climate or the proximity to market. As was certainly the case with Amazon, attracting and retaining a skilled workforce was also part of that equation. Workers want a good job, yes, but they also want things that aren't easy to figure directly into the bottom line, like good schools, amenities and a good quality of life.
This is where a city's cultural landscape comes into play. Are there museums where workers can take their kids on Saturday? Are there venues bringing in popular musical acts? Are there opportunities to join community theatre? Are there at least few decent restaurants to go on a date?
This begs a simple point: Fargo, it's time to stop thinking of arts and culture as frivolous pursuits and time to start thinking of them in terms of a city's competitive advantage. If we're to compete as a desirable place to do business, it's time to take them seriously.
The Arts Partnership will make this point with an upcoming Business Speaker Series. Three speakers, all involved with economic development in markets similar to Fargo, will reiterate the value of the arts to create healthy, prosperous communities. (Click here for more details and tickets.)
The speakers:
March 19: David Brown, president and CEO of the Greater Omaha Chamber of Commerce, which was named the top chamber in the U.S. by the Association of Chamber of Commerce Executives in 2015.
April 16: Kyle Carter, executive director of Downtown Davenport Partnership (Quad Cities). Carter is also a board member of Midcoast Fine Arts and vice chairman of the Freight House Farmers Market.
May 21: Jeff Nicholson, CEO of Plazacorp in Kalamazoo, Mich., a real estate development company focused on restoration and revitalization of properties.
"This is a never-ending battle for talent," says Carter, who has spent the better part of two decades at the intersection of economic development and the arts for the Quad Cities, headquarters of John Deere. He said polling indicates that workforce recruitment is constantly the top issue among employers and that the arts become a crucial connection between quality of life and workforce retention.
"Yes, you need jobs, but you're not going to keep those people if you don't build a community, and the arts are central to that," Carter says.
The development of cultural amenities has compounding effects. While attracting and retaining talent, communities with strong arts and culture also develop a workforce with a wide set of skills. Companies that embrace those skill sets poise themselves for a successful future.
In turn, as those skills are nurtured and people find a way to use them, those skilled workers will stay in this community. If they stick around, that means they might be bringing the next big idea right to our doorstep.
This all won't just happen on its own, and it won't appear magically after cutting a check. It requires financial commitment as well as active participation, like serving on an arts board or lending sponsorship to a project. This is a long, sustained effort that requires patience and dedication. But it isn't impossible, and for a business leader in Fargo who cares about the long-term viability of our workforce and our quality of life, it should be the easiest decision to make.
Carter says there is some urgency to all of this.
"We're competing against San Diego, Austin, Portland, places that are marketed much more than we are. We'd better have our act together, and we'd better have a community that people are excited to be a part of," he says.
(Click here for more details and tickets about the upcoming speaker series.)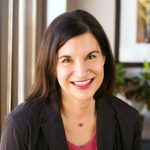 A member of Flint Group since 2004, Jodi spends her days analyzing data and market research, writing strategy and proposals, connecting with clients, problem-solving with employees, working on internal management, and planning projects. She has a remarkable ability to manage teams, develop strategy, and execute campaigns on plan and on budget. A seasoned professional and effectual leader, Jodi brings to her position more than 25 years of marketing and advertising experience. Prior to Flint Group, she served as a brand and research manager at Microsoft Business Solutions and as marketing director at Nodak Mutual Insurance.