If the thought of attracting and retaining good employees stirs up some anxious feelings, you're not alone. At 3.6%, the U.S. unemployment rate is at its lowest since 1969.
As a result of the increasingly tight labor market, organizations of all sizes in all sectors are seeing the necessity of a strong employment brand. In fact, in a Harvard Business Review (HBR) report, 80% of surveyed companies said employment branding is a top investment area for 2020. Another 9% said it was the top priority.
An employment brand is the perception of what it's like to work for an organization. It's built on characteristics such as your organization's culture, work environment, benefits package and your employee value proposition.
If the concept of employment branding is new to you, take a look at our employer branding 101 guide.
From a luxury to a necessity
As the talent shortage and employee retention issues top the list of business threats, employment branding has moved from the wish list to the critical column for organizations across the country. Should your company be among them?
If your business hires a handful of employees every year and they tend to stick around, an investment in employment branding might not be appropriate. But if you find yourself regularly placing recruiting ads and doing exit interviews, these employment branding statistics will interest you – and your senior leadership team:
Reach the next generation of employees
By now you've likely been flooded with messages on how to attract and retain millennials. But hot on their heels, here comes Generation Z. And you'll want to know how to find and attract them.
This group will most definitely check you out long before they ever consider working with you. You'll want to become attractive to them.
Especially important to this group is purpose-driven work. Younger audiences are loyal to their passions, not to a specific company. Studies show Gen Z and millennial employees want to make a difference in their work. A strong employment brand will help you speak to their values.
Check out our previous blog about Gen Z recruitment.
Get leaders on board
An employer brand should grow out of the established corporate brand, yet they are not one and the same. An employment brand goes beyond tangible and intangible benefits. It exposes the heart of your organization – why you exist and the value you bring to customers, employees, and the world at large.
HBR states that to make an employer brand stick, "it must be owned by the CEO. As any good leader knows, their most important job is attracting, retaining and advancing the best people."
An organization and its leaders must authentically live their employment brand. The alignment of purpose and passion is what keeps employees for the long haul.
How can we help?
Employment branding is part art, part science, and we've been helping organizations strike that balance long before it became an industry buzzword. See how we've led Discovery Benefits and Essentia Health through their employment branding, or check out our five-step approach to developing your employment brand.
Want to talk about your employee brand? Flint Group's professional services team is ready to talk. Contact us today.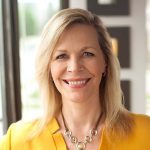 Kimberly Wold Janke
An expert at planning and executing successful integrated marketing communications campaigns, Kimberly has worked in the marketing and advertising industry for more than 20 years. She uses this marketing and advertising experience and her passion for results-driven communication to lead Flint Group marketing teams and educate and inspire at conferences and events. She is well-known among the industry for her work with Blue Cross Blue Shield of North Dakota (BCBSND), including the Bolder Shade of Blue campaign that helped lead BCBSND out of crisis and repair its brand reputation. Her work on this campaign helped earn Flint Group and BCBSND the 2014 Public Relations Society of America (PRSA) Silver Anvil Award.